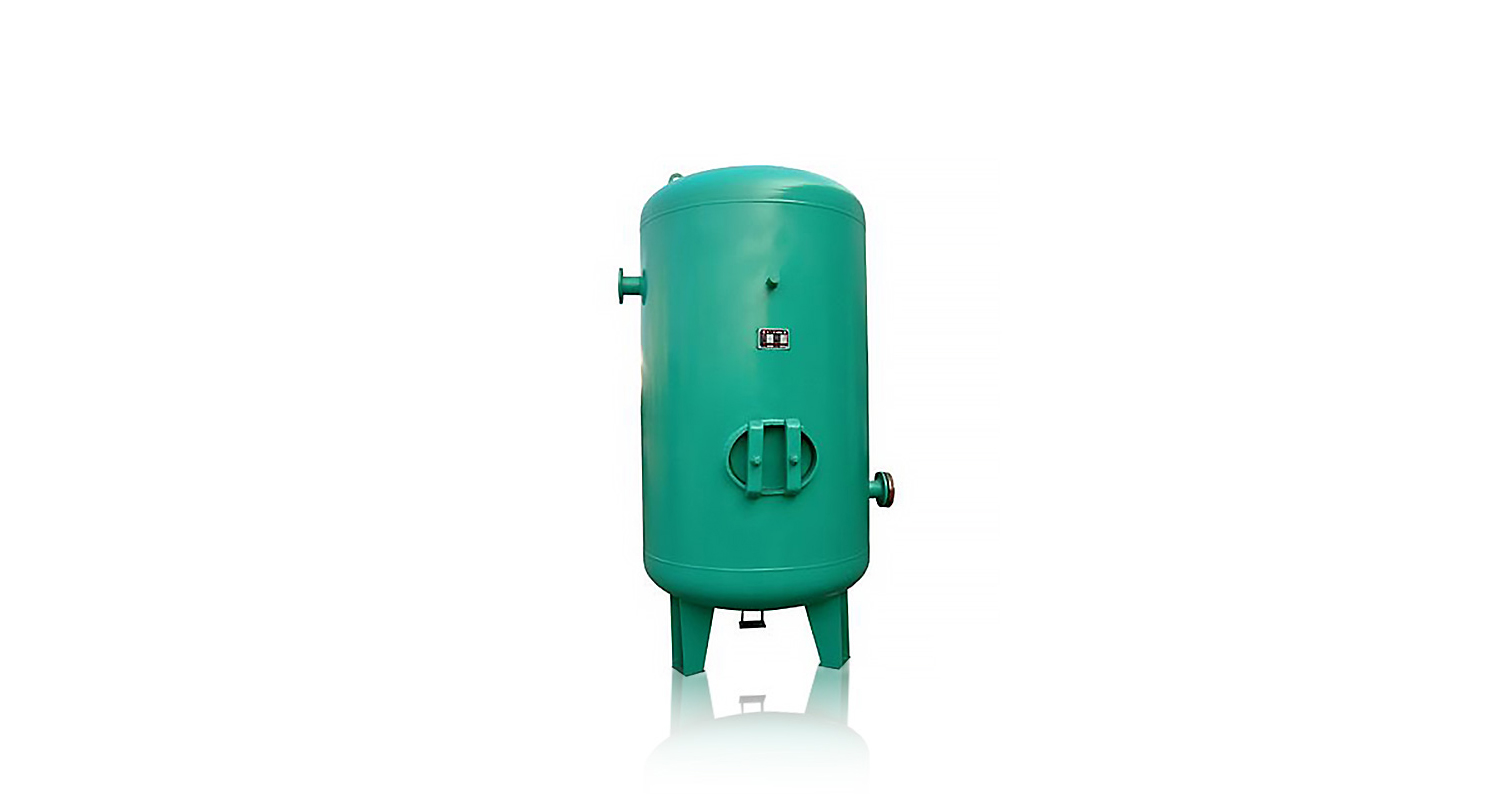 Functions of Air Tank in Compressed Air System:
To satisfy the increase of compressed air demands and avoid the negative influence of air flow fluctuation on the gas point in the pipeline system.
To cool the compressed air, discharge the water in compressed air, reduce the load of air dryer, and save more energy.
To reduce the unloading time of air compressor and reduce the energy consumption of the air compressor.
S/O
Volume
Pressure
Design
Temperature
Overall
Height H1
Inner
Diameter
Inlet
Outlet
Support
Safety
Valve Joint
Blow-off
Valve Joint
(m3/Mpa)
(C)
H2
DN
Thread Type
H3
DN
Thread Type
D
d
1
0.1/0.8
110
1103
400
479
Rp1/2
804
Rp1/2
Rp1/2
R1/2
2
0.1/1.0
110
1103
400
479
Rp1/2
804
Rp1/2
Rp1/2
R1/2
3
0.2/0.8
110
1203
550
505
Rp1
1000
Rp1
Rp1/2
R1/2
4
0.2/1.0
110
1203
550
505
Rp1
1000
Rp1
Rp1/2
R1/2
5
0.3/0.8
110
1589
550
642
Rp11/2
1242
50
Rp11/2
400
20
Rp1/2
R1/2
5
0.3/0.8
110
1589
550
642
Rp11/2
1242
50
Rp11/2
400
20
Rp1/2
R1/2
6
0.3/1.0
110
1589
550
642
Rp11/2
1242
50
Rp11/2
400
20
Rp1/2
R1/2
7
0.6/0.8
110
1900
700
680
Rp11/2
1550
65
Rp11/2
490
24
Rp1/2
R1/2
8
0.6/1.0
110
1902
700
681
Rp11/2
1551
65
Rp11/2
490
24
Rp1/2
R1/2
9
1.0/0.8
110
2305
800
690
Rp11/2
1920
65
Rp11/2
560
24
Rp3/4
R1/2
10
1.0/1.0
110
2307
800
691
Rp11/2
1921
65
Rp11/2
560
24
Rp3/4
R1/2
11
1.5/0.8
110
2265
1000
760
Rp2
1810
65
Rp2
700
24
Rp3/4
R1/2
12
1.5/1.0
110
2265
1000
760
Rp2
1810
65
Rp2
700
24
Rp3/4
R1/2
13
2.0/0.8
110
2780
1000
760
80
Rp2
2320
80
Rp2
700
24
Rp3/4
R1/2
14
2.0/1.0
110
2780
1000
760
80
Rp2
2320
80
Rp2
700
24
Rp11/4
R1/2
15
2.5/0.8
110
3300
1000
760
80
2840
80
700
24
Rp11/4
R1/2
16
2.5/1.0
110
3300
1000
760
80
2840
80
700
24
Rp11/4
R1/2
17
3.0/0.8
110
2920
1200
850
80
2410
80
906
24
Rp11/2
R3/4
18
3.0/1.0
110
2922
1200
851
80
2411
80
906
24
Rp11/2
R3/4
19
4.0/0.8
110
3030
1400
910
100
2470
100
1050
24
Rp11/2
R3/4
20
4.0/1.0
110
3032
1400
911
100
2471
100
1050
24
Rp11/2
R3/4
21
5.0/0.8
110
3630
1400
910
100
2991
100
1050
24
Rp2
R3/4
22
5.0/1.0
110
3632
1400
911
100
2991
100
1050
24
Rp2
R3/4
23
6.0/0.8
110
4230
1400
910
100
3620
100
1050
24
Rp2
R3/4
24
6.0/1.0
110
4232
1400
911
100
3621
100
1050
24
Rp2
R3/4
25
8.0/0.8
110
3154
2000
1082
125
2362
125
1050
32
Rp2
R3/4
26
8.0/1.0
110
3156
2000
1083
125
2363
125
1050
32
Rp2
R3/4
27
10.0/0.8
110
3754
2000
1082
150
2962
150
1050
32
Rp21/2
R3/4
28
10.1/1.0
110
3756
2000
1083
150
2963
150
1050
32
Rp21/2
R3/4
29
12.0/0.8
110
4354
2000
1082
150
2562
150
1050
32
Rp21/2
R3/4
30
12.0/1.0
110
4356
2000
1083
150
2563
150
1050
32
Rp21/2
R3/4
31
15.0/0.8
110
4531
2200
1208
150
3618
150
1650
32
Rp21/2
R1
32
15.0/1.0
110
4533
2200
1209
150
3619
150
1650
32
Rp21/2
R1
33
20.0/0.8
110
5036
2400
1348
200
4108
200
1800
32
Rp3
R1
34
20.0/1.0
110
5040
2400
1350
200
4110
200
1800
32
Rp3
R1
35
25.0/0.8
110
6146
2400
1348
200
5068
200
1800
32
Rp3
R1
36
25.0/1.0
110
6150
2400
1350
200
5070
200
1800
32
Rp3
R1
37
30.0/0.8
110
6706
2500
1373
200
5603
200
1875
36
Rp3
R1
38
30.0/1.0
110
6710
2500
1375
200
5605
200
1875
36
Rp3
R1
39
40.0/0.8
110
8676
2500
1373
200
7413
200
1875
36
Rp3
R1
40
40.0/1.0
110
8680
2500
1375
200
7415
200
1875
36
Rp3
R1
41
0.3/1.3
110
1593
550
644
50
Rp11/2
1244
50
Rp11/2
400
20
Rp1/2
R1/2
42
0.3/1.6
110
1536
550
643
50
Rp11/2
1143
50
Rp11/2
400
20
Rp3/4
R1/2
43
0.6/1.3
110
1904
700
682
65
Rp11/2
1552
65
Rp11/2
490
24
Rp1/2
R1/2
44
0.6/1.3
110
2086
650
668
65
Rp11/2
1668
65
Rp11/2
460
20
Rp3/4
R1/2
45
1.0/1.3
110
2305
800
690
65
Rp11/2
1920
65
Rp11/2
560
24
Rp3/4
R1/2
46
1.0/1.6
110
2307
800
691
65
Rp11/2
1921
65
Rp11/2
560
24
Rp1
R1/2
47
1.5/1.3
110
2267
1000
761
65
Rp2
1811
65
Rp2
700
24
Rp1
R1/2
48
1.5/1.6
110
2566
900
753
65
Rp2
2118
65
Rp2
630
24
Rp11/4
R1/2
49
2.0/1.3
110
2782
1000
761
80
Rp2
2321
80
Rp2
700
24
Rp11/4
R1/2
50
2.0/1.6
110
2786
1000
753
80
Rp2
2323
80
Rp2
700
24
Rp11/4
R1/2
51
2.5/1.3
110
3302
1000
761
80
Rp2
2841
80
Rp2
700
24
Rp11/4
R1/2
52
2.5/1.6
110
3306
1000
753
80
Rp2
2843
80
Rp2
700
24
Rp11/4
R1/2
53
3.0/1.3
110
2924
1200
852
80
Rp2
2412
80
Rp2
906
24
Rp11/2
R3/4
54
3.0/1.3
110
2926
1200
853
80
Rp2
2413
80
Rp2
906
24
Rp11/2
R3/4
55
4.0/1.3
110
3036
1400
913
100
2473
100
1050
24
Rp11/2
R3/4
56
4.0/1.6
110
3040
1400
915
100
2475
100
1050
24
Rp11/2
R3/4
57
5.0/1.3
110
3636
1400
913
100
2993
100
1050
24
Rp2
R3/4
58
5.0/1.6
110
3460
1400
915
100
2995
100
1050
24
Rp2
R3/4
59
6.0/1.3
110
4236
1400
913
100
3623
100
1050
24
Rp2
R3/4
60
6.0/1.6
110
4240
1400
915
100
3625
100
1050
24
Rp2
R3/4
61
8.0/1.3
110
3190
2000
1100
125
2380
125
1500
32
Rp2
R3/4
62
8.0/1.6
110
3194
2000
1102
125
2382
125
1500
32
Rp2
R3/4
63
10.0/1.3
110
3790
2000
1100
150
2980
150
1050
32
Rp21/2
R3/4
64
10.0/1.6
110
3794
2000
1102
150
2982
150
1050
32
Rp21/2
R3/4
65
12.0/1.3
110
4390
2000
1100
150
3580
150
1500
32
Rp21/2
R3/4
66
12.0/1.6
110
4394
2000
1102
150
3582
150
1500
32
Rp21/2
R3/4
67
15.0/1.3
110
4569
2200
1227
150
3637
150
1650
32
Rp21/2
R1
68
15.0/1.6
110
4573
2200
1229
150
3639
150
1650
32
Rp21/2
R1
69
20.0/1.3
110
5044
2400
1352
200
4112
200
1800
32
Rp3
R1
70
20.0/1.6
110
5048
2400
1354
200
4114
200
1800
32
Rp3
R1
71
25.0/1.3
110
6154
2400
1102
200
5072
200
1500
32
Rp3
R1
72
25.0/1.6
110
6158
2400
1352
200
5074
200
1650
32
Rp3
R1
73
30.0/1.3
110
6154
2400
1102
200
5072
200
1500
32
Rp3
R1
74
30.0/1.6
110
8680
2500
1381
200
5611
200
1800
32
Rp3
R1
75
40.0/1.3
110
8688
2500
1379
200
7419
200
1800
36
Rp3
R1
Elang Compressor Category