Oil injected screw air compressors use lubricating oil to lubricate the screw elements and other moving parts, which reduces friction and wear, leading to improved efficiency and service life. This lubricating oil also helps in lowering the operating temperature, enhancing sealing performance, and reducing noise. They are usually used in industrial applications that require a large amount of compressed air, such as manufacturing, steel, power plants, textiles, and other fields.
F

ixed Speed Oil Flooded Screw Air Compressor
Adopting professional motors and specially designed low-speed screw air compressors, the efficiency is improved by 3-5% compared to similar products, and there is no loss in the direct connection structure.
The cooler and fan can be independently disassembled, with a 20% cooling margin. It can adapt to an ambient temperature of 50 ℃.
IP54 protection level, fully enclosed base structure, anti wave or strong water spray, improving motor life.
No installation | Power and go | Easy maintenance | Adjustable pressure
7-16Bar Air Supply

: Eliminate pressure difference between loading and unloading, improve working efficiency

HANBELL Airend

: IP55, insulation Grade F

INOVANCE Advanced Inverter

: the global high-end users' perference
Power
: 7.5 – 22 kw
Working Pressure
: 7 – 16 bar
Air Delivery
: 0.5 – 3.8 m3/min
V

sd Oil Flooded Screw Air Compressor
Compared to fixed speed air compressor, VSD air compressor can be adjusted automatically according to real-time requirements within its speed range to ensure efficient compressed air. When demand increases, the motor speeds up and and when demand decreases, it slows down, thereby saving energy and avoiding unnecessary full-speed operation.
High efficiency PM motor saves energy 6-7% comparing with common 3-phase asynchronous motor.
Use intelligent inverter technology, PM VFD compressor saves energy up tp 30%.
Owns a number of patented technologies.
Industrial LOT functionality.
The operating temperature is lower. Compared with unipolar compression, isothermal compression is more energy-saving and can theoretically save 8% of energy.
The compression ratio of every level has been reduced to 3:1, less inside leak and the volume efficiency has raised 15%.
It is helpful to adjust the rotor of each stage to achieve the best line speed of 25m/s – 30m/s, and obtain the highest compression transmission efficiency.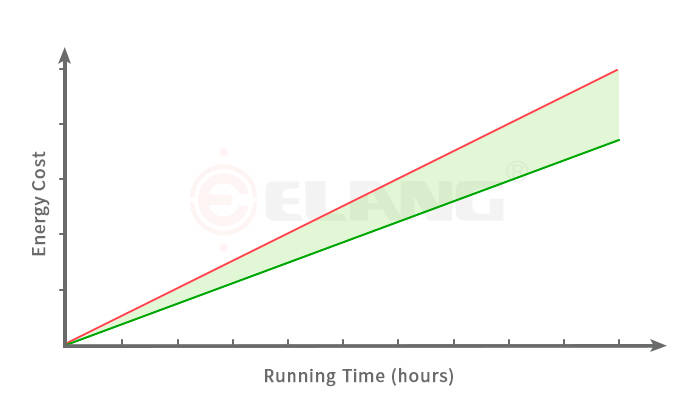 Single Stage Compression
Two Stage Compression
Two-stage compression can achieve 10%-15% energy saving
Some of industries such as Chemical, Building Materials, Textile and Cement, what they requirement for air pressure is only 2 – 5 Bar, while now, they use 7 – 10 Bar air compressor with a reducing valve instead of low pressure one. This situation definitely cause a huge waste of energy. Therefore, Elang low pressure screw air compressor is special designed for these industries, it can meet the low pressure air you need.
Special designed for textile, chemical, building materials and cement equipment.
30% power saving compared with the 7 – 8 bar screw air compressor
Motor Power
: 15 – 355 kw
Working Pressure
: 2 – 5 bar
Air Delivery
: 3.9 – 75.2 m3/min