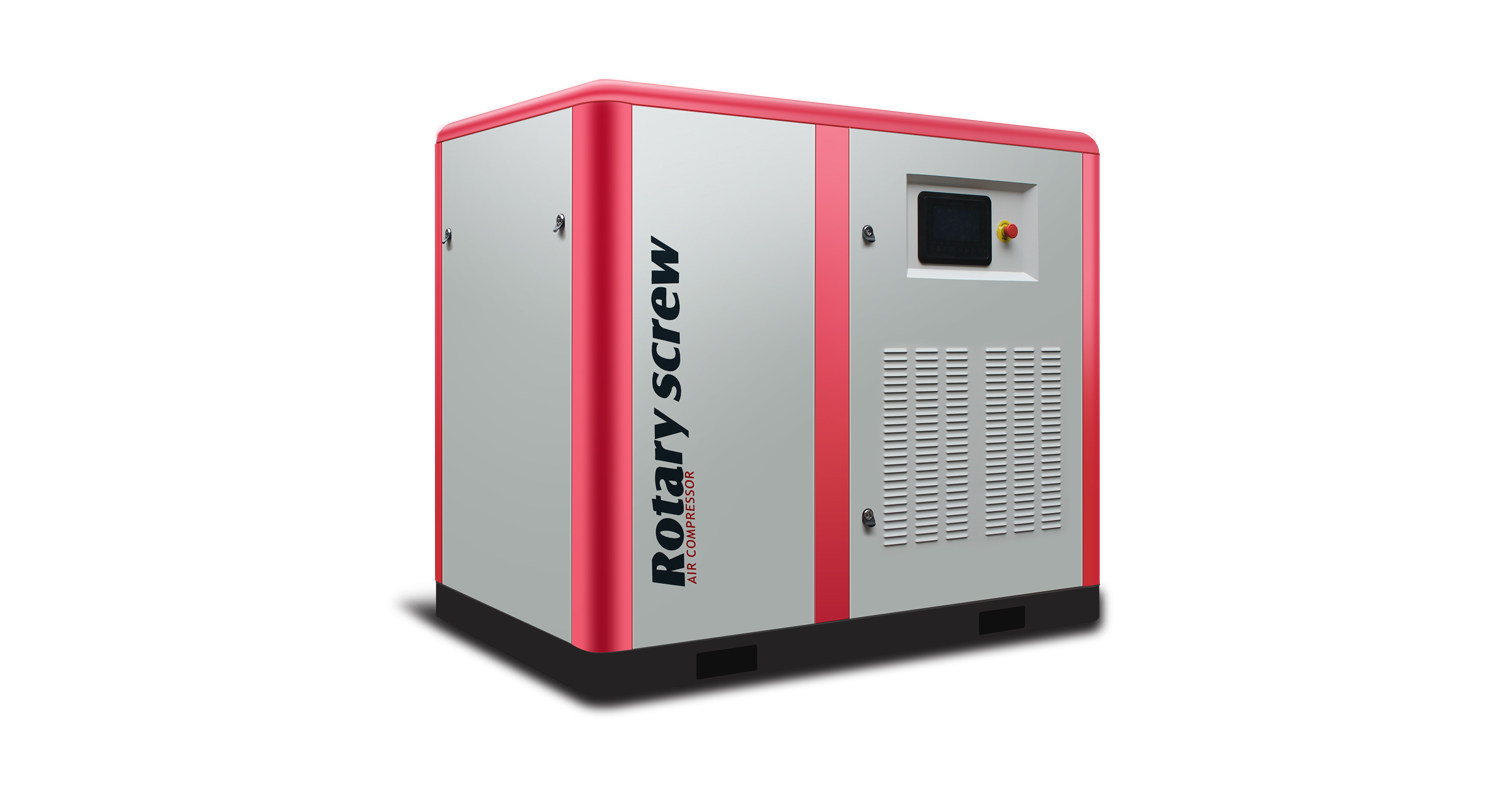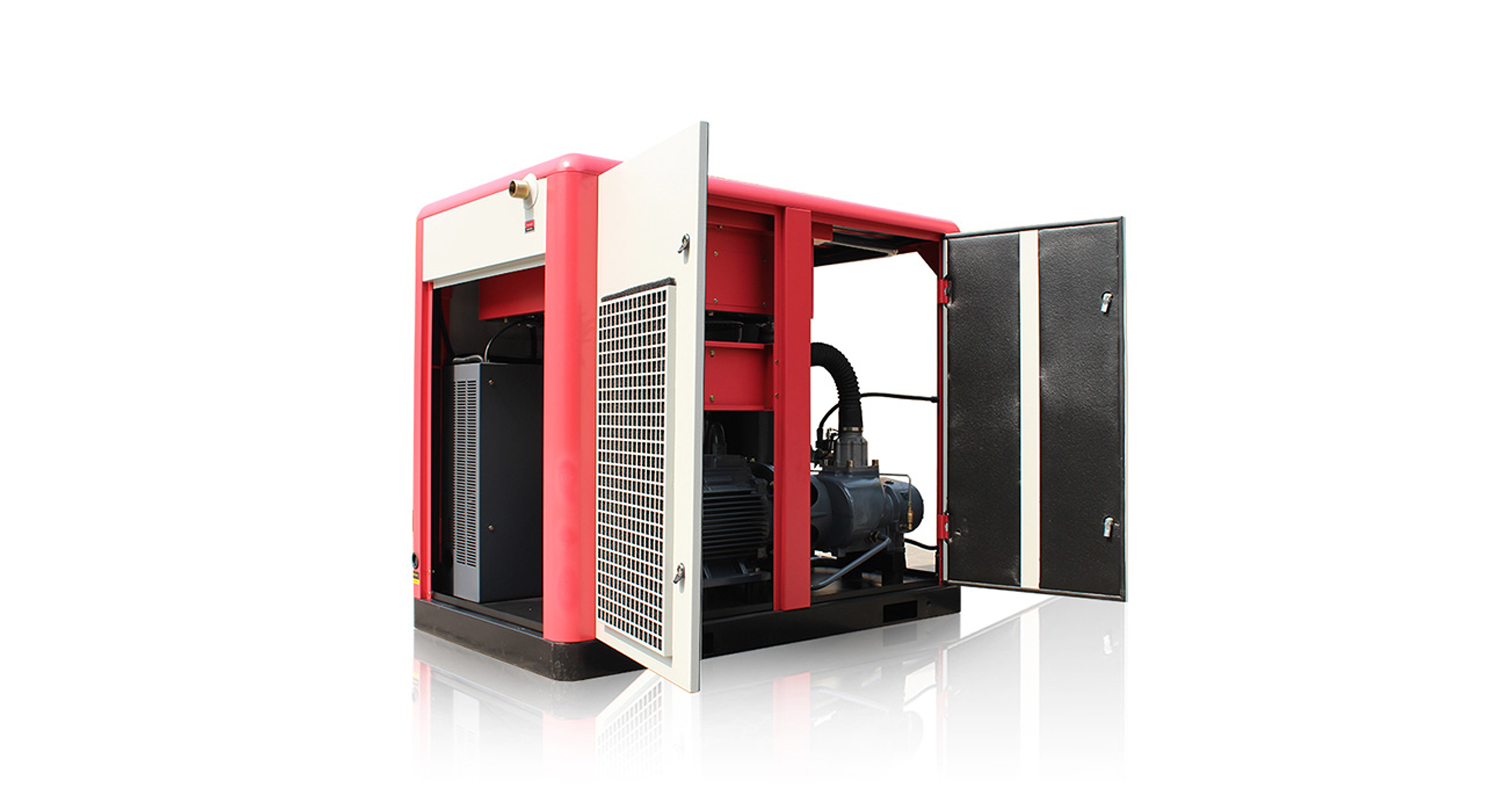 The permanent magnet synchronizing variable frequency compressor is a highly advanced and efficient compressor that incorporates the latest technology in its design. Only a few advanced countries and zones in the world currently possess this technology. It represents a high-end trend for future compressor development, as it has broken through traditional concepts of compressor design and incorporates sophisticated and energy-saving technical factors.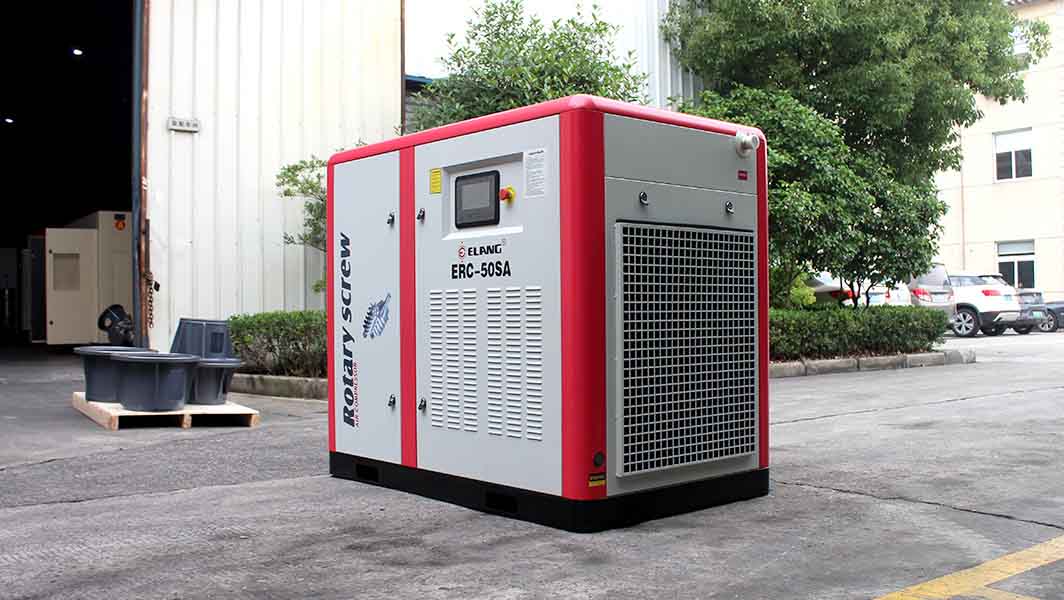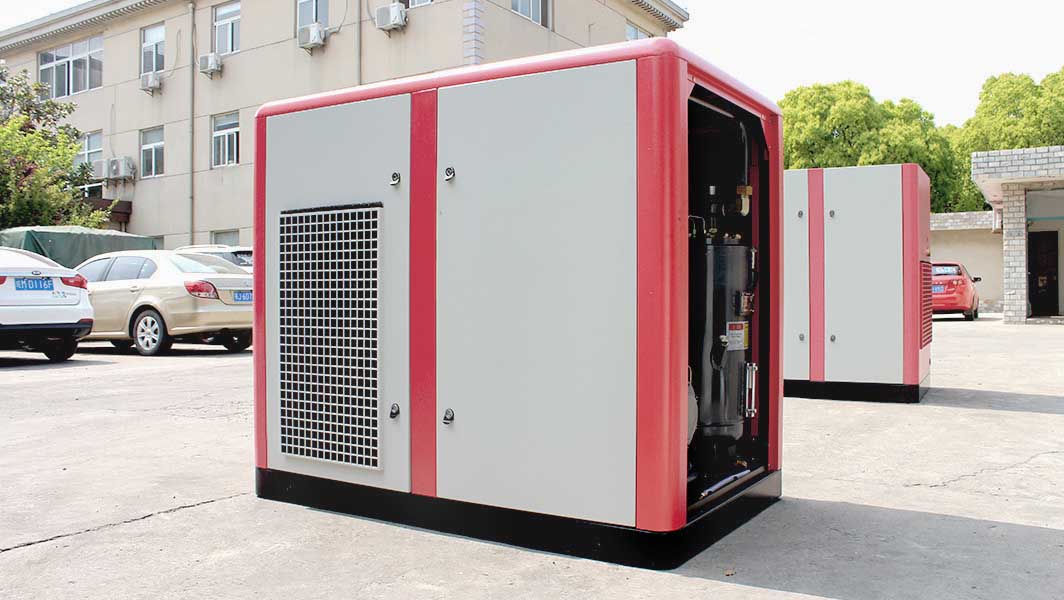 Appearance Display
What are the differences between PM air compressors and traditional air compressors?
Energy efficiency: PM air compressors use permanent magnet motors that are more energy-efficient than induction motors used in traditional compressors. This means they consume less electricity to produce the same amount of compressed air, resulting in lower energy bills.

Compact size: PM air compressors are smaller and lighter than traditional compressors, making them easier to install and transport. They also take up less space in your facility, freeing up valuable floor space for other equipment.

Low noise levels: PM air compressors operate at significantly lower noise levels compared to traditional compressors, which can be important in noise-sensitive environments.

Maintenance-free operation: With fewer moving parts and simplified design, PM air compressors require less maintenance than traditional compressors. This can result in reduced downtime and increased productivity.

High reliability: PM air compressors typically have a longer lifespan due to their durable construction and simple design. This means you can rely on them for continuous operation without worrying about frequent breakdowns or costly repairs.
Advantages:
PM motor has 2~ to 7% higher working efficiency than three-phase asynchronous motor. No matter in underloading or overloading conditions, PM compressors keep high working efficiency while three-phase asynchronous motor will have fluctuant efficiency according to the loading conditions. Therefore, compressors with PM motor will save 8% to 30% energy than those with three-phase asynchronous motor.Specialized PM motor has power factor large than 0.95, even close to 1 in some models. Moreover, PM compressors are installed with frequency converter to realize variable frequency starting and decrease the impact to compressor unit and power grid during starting, so as to save operation costs.

1.servo air compressor is a modern new technology air compressor with novel and beautiful appearance.
2.Internally efficient, energy saving!
3.Small machine size, Silent ,durable and run smoothly!
4.Save many troubles of regular maintenance and replacement.

How To Save Energy?
1)The efficiency of the PM motor is always maintained at the level of about 0.95, the power factor is close to 1, and it is increased by 5%-10% compared with the same specifications of the asynchronous motor . The motor is always maintained high efficiency whatever at a light or heavy loads.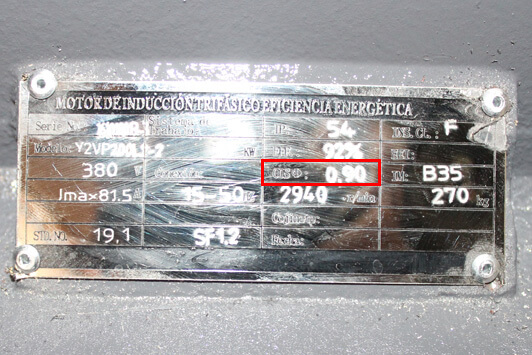 2)Variable Frequency start, reducing the energy consumption of air compressor start, a substantial reduction in starting current and maximum power load, saving a lot of electricity, allowing unlimited start and stop, and does not affect the motor life.

3)The comprehensive energy saving of servo air compressor reach the rate of 20% -35%, power saving is considerable. Machine efficiency is more 12% to 18% than ordinary air compressor, and it belongs to IE3 energy efficiency standards,The increasing purchase cost is generally recovered within 1 year!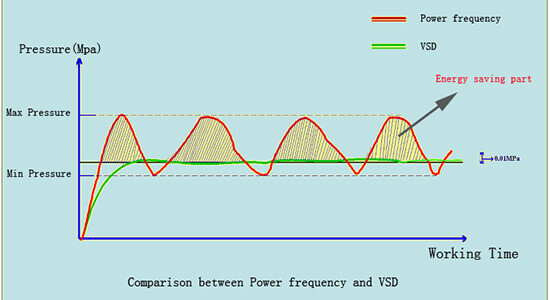 Example: Rated power 30kW screw air compressor
If 16 hours a day/5600 hours a year. Electricity payment is 0.16USD per KW/H, SF=1.2:
Normal screw compressor has three losses:
A.Unload loss
B.Pressure loss
C.Motor efficiency loss

Calculation As Follows:
A. Unload loss=25% unloading time*The loss of the current load during no-load time (45%):
Unload loss=0.25*(0.45*1.2*30*5600)*0.16= 3628.8 USD/Year
B. Pressure loss=75% loading time* The loss of the pressure loss(2bar/14%)
Pressure loss=0.75*(0.14*1.2*30*5600)*0.16=3386.88USD/Year
C. Motor efficiency loss: 30kw The servo motor is about 5% higher than the normal motor:
motor efficiency loss=30*1.2*5600*0.05*0.16=1612.8USD/Year
Total cost savings: 3628.8+3386.88+1612.8=8628.48USD/Year
Total cost of normal 30kw air compressor: Cost of 75% loading time + Cost 25% unloading time
=0.75*1.2*30*0.16*5600+0.25*0.45*1.2*30*0.16*5600
=27820.8USD/Year
Power saving reached:8628.48/27820.8=31%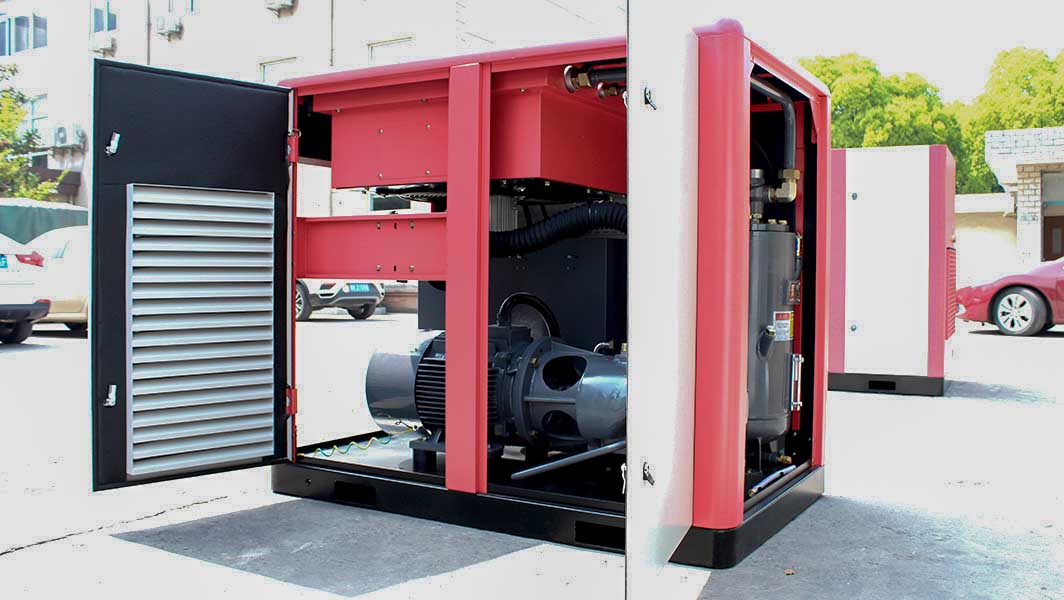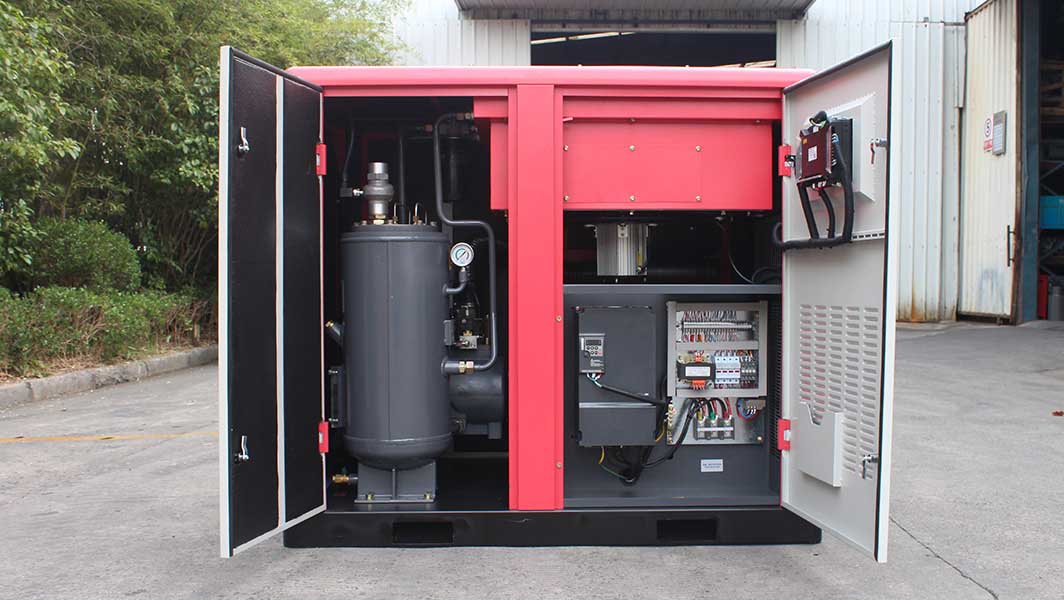 Application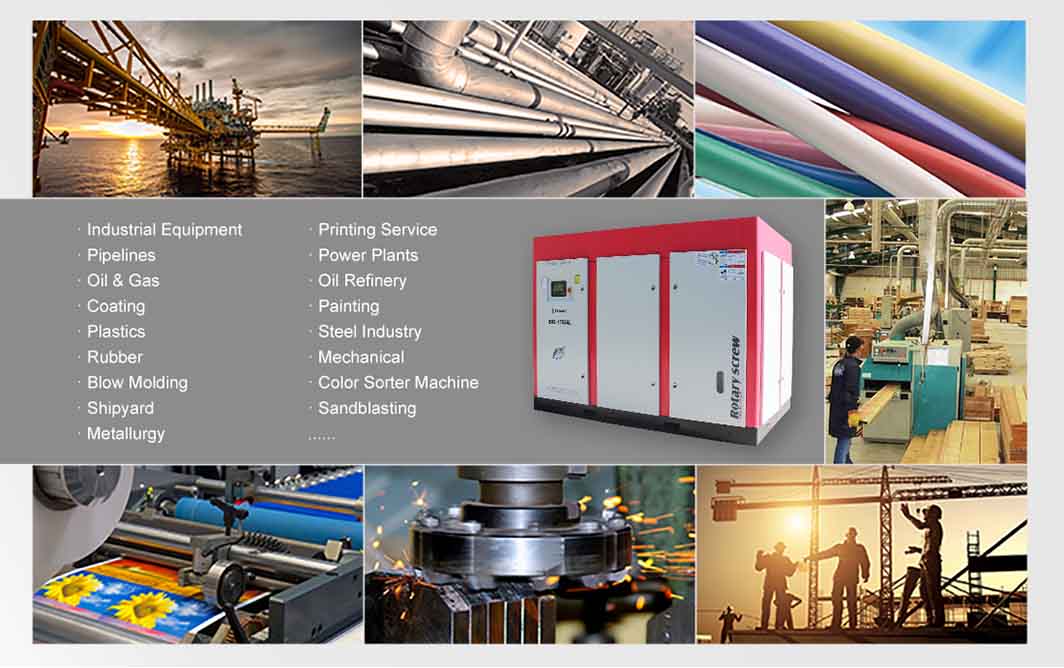 Project
4 Units of 280kw 8bar PM Screw Air Compressor for Thermal Power Plant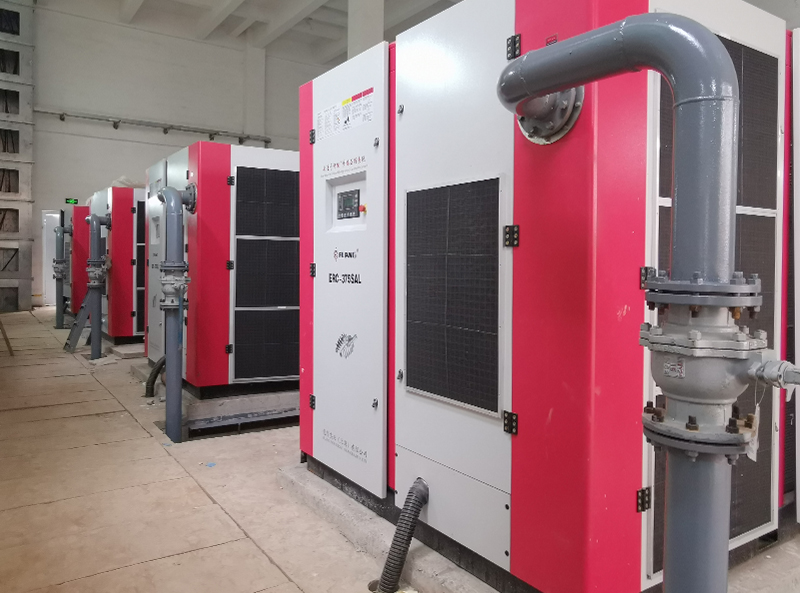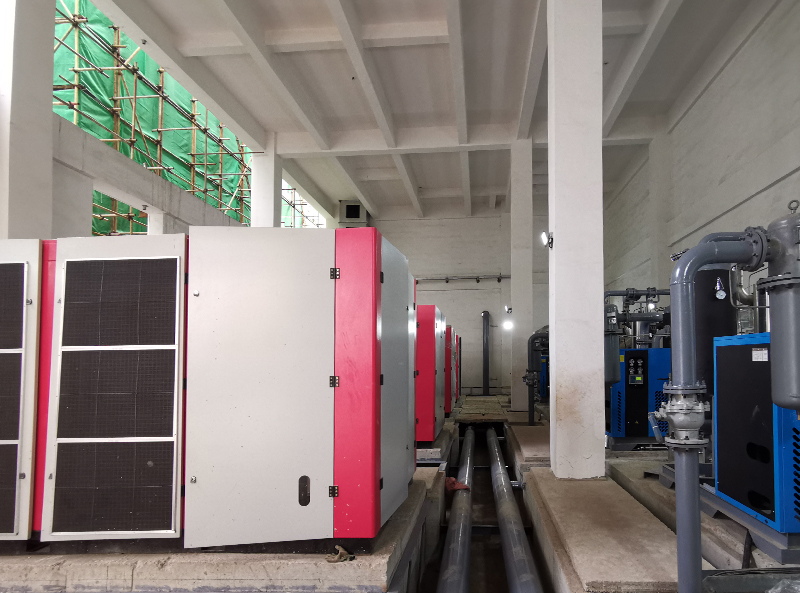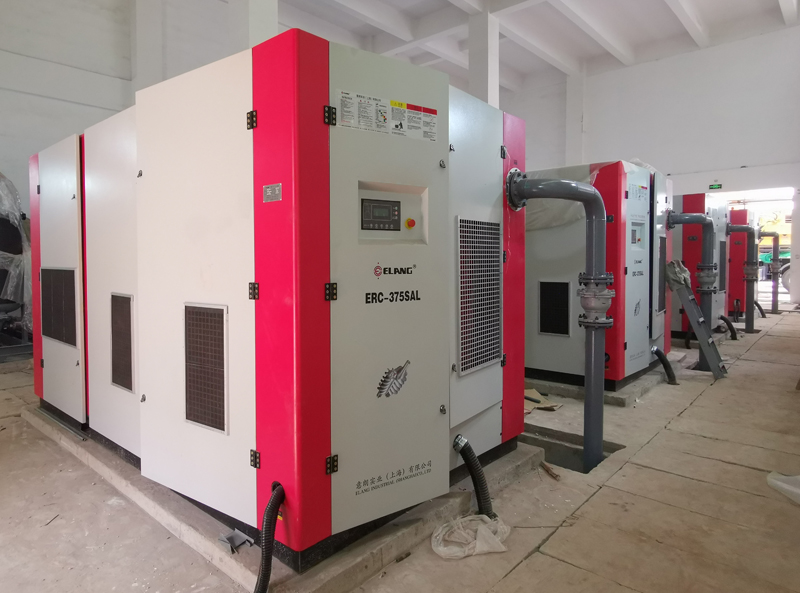 11 Units of Water Cooling PM VSD Air Compressors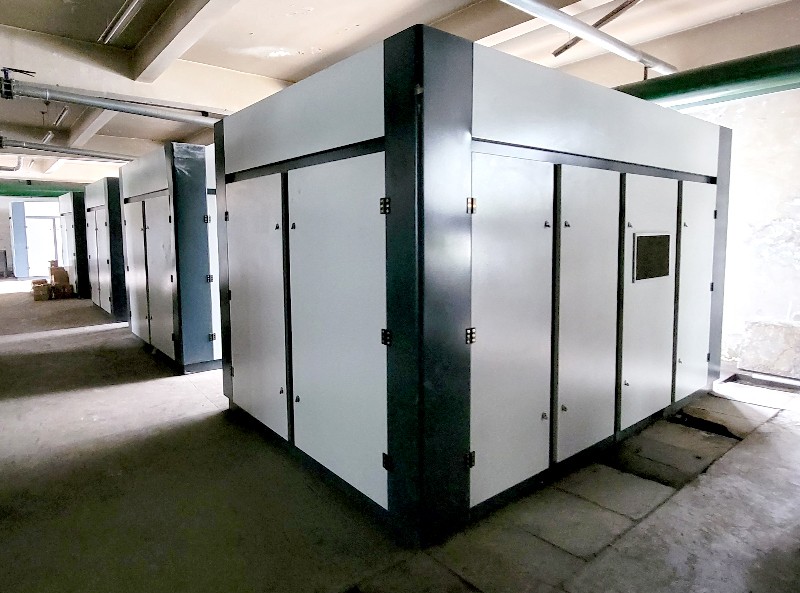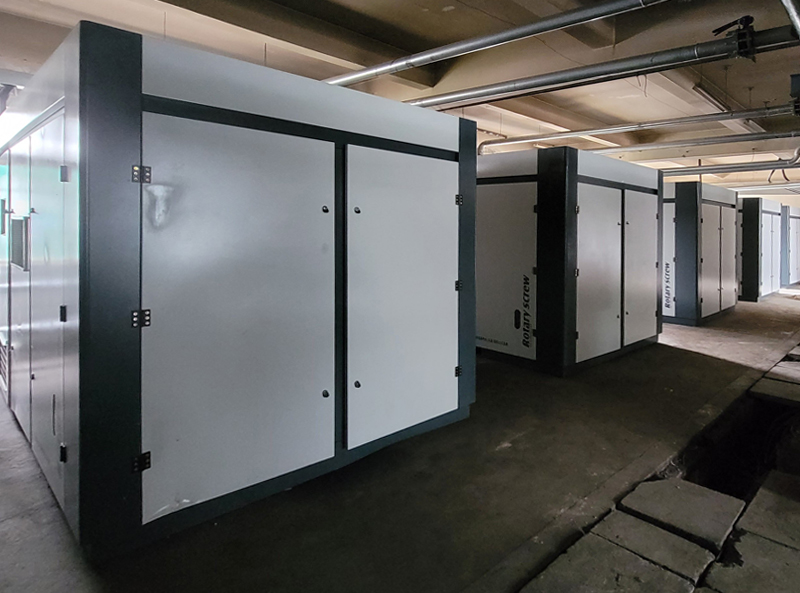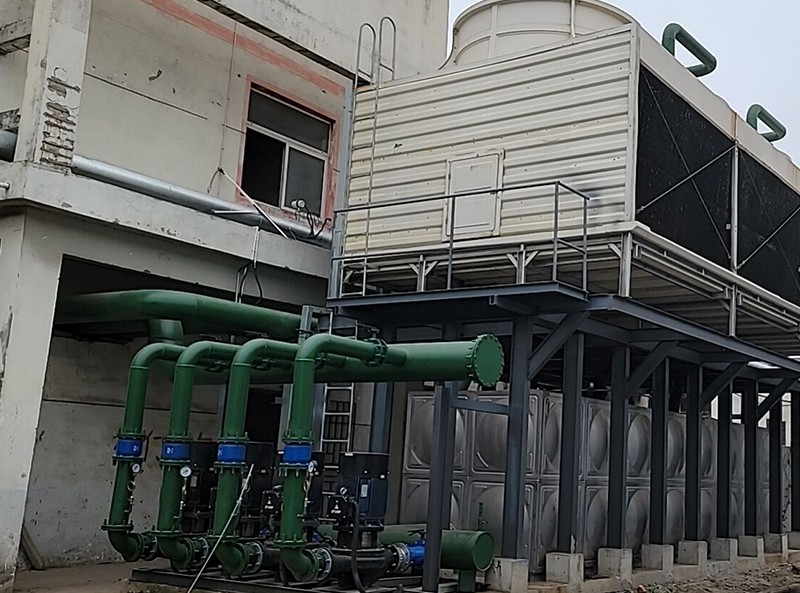 3 Units of Elang 330HP Screw Compressor for Chemical Industry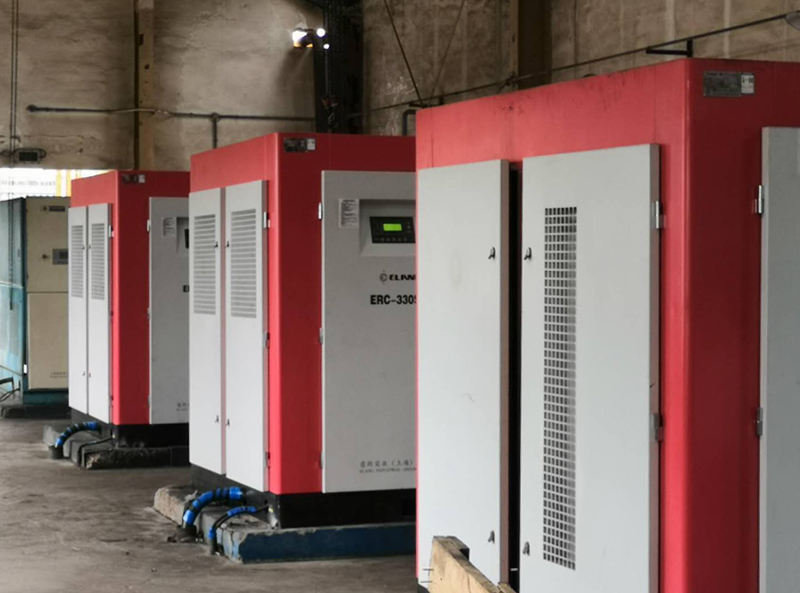 Model
Working Pressure
Air Delivery
Motor Power
Dimension(mm)
Weight
Output pipe
iameter
psig
bar
cfm
m3/min
Kw/hp
L
W
H
Kg
ERC-10SA
100
7
15.5 – 38.8
0.44 – 1.1
7.5/10
850
640
880
350
3/4″
116
8
14.1 – 35.3
0.4 – 1.0
145
10
12.0 – 30.3
0.34 – 0.85
181
12.5
9.9 – 24.7
0.28 – 0.7
ERC-15SA
100
7
25.4 – 63.6
0.72-1.8

11/15

1150

750

1180

450

3/4″

116
8
24.7-58.3
0.7-1.65
145
10
21.2-53.0
0.6-1.5
181
12.5
18.4-45.9
0.52-1.3
ERC-20SA
100
7
33.9 – 84.7
0.96 – 2.4
15/20
1150
750
1180
460
3/4″
116
8
31.7 – 77.6
0.88 – 2.2
145
10
29.7 – 74.2
0.84 – 2.1
181
12.5
25.4 – 63.6
0.72 – 1.8
ERC-25SA
100
7
47.8-109.5
1.2-3.1

18.5/25

1200

850

1280

665

1 1/4″

116
8
41.0-102.4
1.2-2.9
145
10
38.1-95.3
1.1-2.7
181
12.5
32.5-81.2
0.9-2.3
ERC-30SA
100
7
53.7-134.2
1.5-3.8
22/30
1200
850
1280
665
1 1/2″
116
8
50.8-127.1
1.4-3.6
145
10
45.2-113.0
1.3-3.2
181
12.5
39.5-88.3
1.1-2.8
ERC-40SA
100
7
74.9-187.1
2.1-5.3
30/40
1450
1000
1465
1110
1 1/2″
116
8
70.6-176.6
2.0-5.0
145
10
60.7-151.8
1.7-4.3
181
12.5
50.8-127.1
1.4-3.6
ERC-50SA
100
7
93.2-233.0
2.6-6.6
37/50
1450
1000
1465
1110
1 1/2″
116
8
87.6-218.9
2.5-6.2
145
10
80.5-201.3
2.3-5.7
181
12.5
65.0-162.4
1.8-4.6
ERC-60SA
100
7
113.0-282.5
3.2-8.0
45/60
1450
1000
1465
1750
1 1/2″
116
8
108.8-271.9
3.1-7.7
145
10
94.6-243.6
2.7-6.7
181
12.5
84.7-211.9
2.4-6.0
ERC-75SA
100
7
148.3-370.8
4.2-10.5
55/75
2100
1250
1700
1750
2″
116
8
138.4-346.0
3.9-9.8
145
10
122.9-307.2
3.5-8.7
181
12.5
103.1-257.8
2.92-7.3
ERC-100SA
100
7
192.1-480.2
5.4-13.6
75/100
2100
1250
1700
1840
2″
116
8
183.6-459.0
5.2-13.0
145
10
159.6-399.0
4.5-11.3
181
12.5
142.7-356.6
4.0-10.1
ERC-120SA
100
7
228.8-572.0
6.5-16.2
90/120
2170
1320
1750
2030
2″
116
8
217.5-543.8
6.2-15.4
145
10
186.4-466.1
5.3-13.2
181
12.5
158.2-395.5
4.5-11.2
ERC-150SA
100
7
293.8-734.45
8.3-20.8
110/150
2545
1500
1900
3100
DN65
116
8
275.4-688.5
7.8-19.5
145
10
233.0-582.6
6.6-16.5
181
12.5
193.5-483.7
5.5-13.7
ERC-175SA
100
7
339.0-847.4
9.6-24
132/175
2545
1500
1900
3400
DN65
116
8
324.9-812.1
9.2-23
148
10
282.5-706.2
8-20
181
12.5
218.9-547.3
6.2-15.5
ERC-200SA
100
7
392.6-981.6
11.1-27.8
160/200
2545
1500
1900
3400
DN65
116
8
367.2-918.1
10.4-26
148
10
331.9-829.8
9.4-23.5
181
12.5
275.4-688.5
7.8-19.5
ERC-250SA
100
7
459.0-1147.6
13-32.5
185/250
2790
1550
2000
3780
DN65
116
8
437.84-1094.6
12.4-31
148
10
367.2-918.1
10.4-26
181
12.5
305.1-762.7
8.6-21.6
ERC-270SA
100
7
487.3-1218.2
13.8-34.5
200/270
2850
1700
2000
4400
DN80
116
8
466.1-1165.2
13.2-33
148
10
9395.5-88.7
11.2-28
181
12.5
331.9-829.8
9.4-23.5
ERC-300SA
100
7
536.7-1341.8
15.2-38
220/300
3150
2000
2120
4930
DN100
116
8
515.5-1288.8
14.6-36.5
148
10
452.0-1129.9
12.8-32
181
12.5
381.4-953.4
10.8-27
ERC-330SA
100
7
1517.9-1518.3
17.2-43
250/330
3150
2000
2120
5450
DN100
116
8
572.0-1430.1
16.2-40.5
148
10
515.5-1288.8
14.6-36.5
181
12.5
452.0-1129.9
12.8-32
ERC-375SA
100
7
727.4-1818.5
20.6-51.5
280/375
4000
2000
2100
6150
DN125
116
8
706.2-1765.5
20-50
148
10
635.6-1589.0
18-45
181
12.5
522.6-1306.5
14.8-37
ERC-420S
100
7
791.0-1977.4
22.4-56
315/420
4600
2300
2400
7500
DN125
116
8
776.8-1942.1
22-55
148
10
692.1-1730.2
19.6-49
181
12.5
579.1-1447.7
16.4-41
ERC-470SA
100
7
903.9-2259.8
25.6-64
355/470
4600
2300
2400
8100
DN150
116
8
875.7-2189.2
24.8-62
148
10
762.7-1906.7
21.6-54
181
12.5
649.7-1624.3
18.4-46
ERC-550SA
100
7
1031.0-2577.6
29.2-73
400/550
5000
2350
2400
8400
DN150
116
8
988.7-2471.7
28-70
148
10
861.6-2153.9
24.4-61
181
12.5
734.4-1836.1
20.8-52
ERC-600SA
100
7
1144.0-2860.1
32.4-81
450/600
5500
2590
2800
9000
DN150
116
8
1115.8-2789.5
31.6-79
148
10
988.7-2471.7
28-70
181
12.5
833.3-2083.3
23.6-59
ERC-670SA
100
7
1257.0-3142.6
35.6-89
500/670
5500
2590
2800
9500
DN200
116
8
1228.8-3072.0
34.8-87
148
10
1087.6-2718.9
30.8-77
181
12.5
946.3-2365.8
26.8-67
ERC-750SA
100
7
1440.6-3601.6
40.8-102
560/750
6500
2700
3000
10000
DN200
116
8
1384.2-3460.4
39.2-98
148
10
1228.8-3072.0
34.8-87
181
12.5
1087.6-2718.9
30.8-77

Motor Efficiency Class:Ultraefficient/IE3/IE2 as per your required
Motor Protection Class:IP23/IP54/IP55 or as per your required
Certification:CE/ISO9001/TUV/UL/SGS/ASME
Voltage:380V/3PH/50HZ/60HZ, 220V/3PH/50HZ/60HZ, 400V/3PH/50HZ/60HZ, 440V/3PH/50HZ/60HZ,
415V/3PH/50HZ/60HZ, 230V/3PH/50HZ/60HZ, dual voltage is also ok
Elang Compressor Category