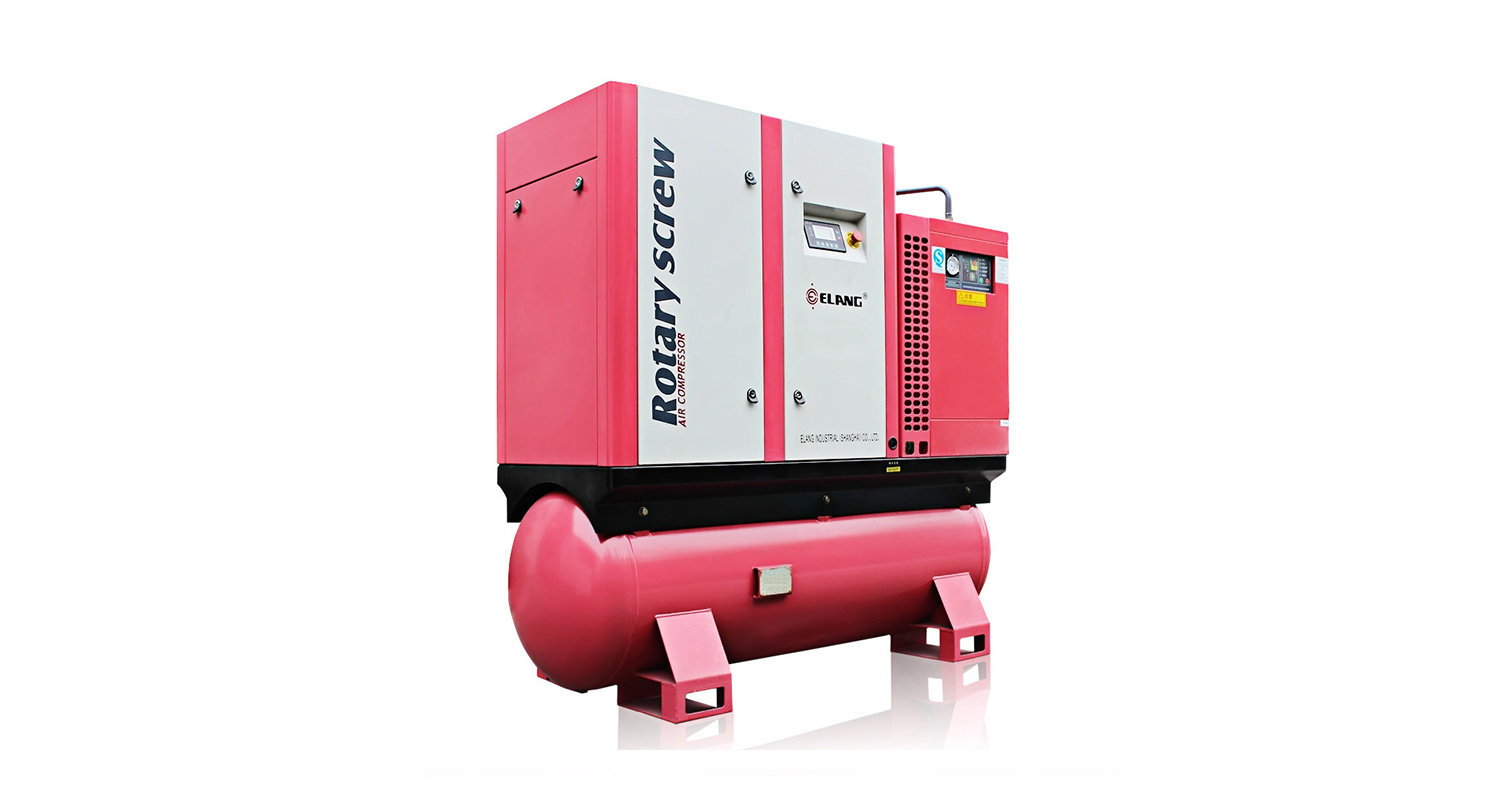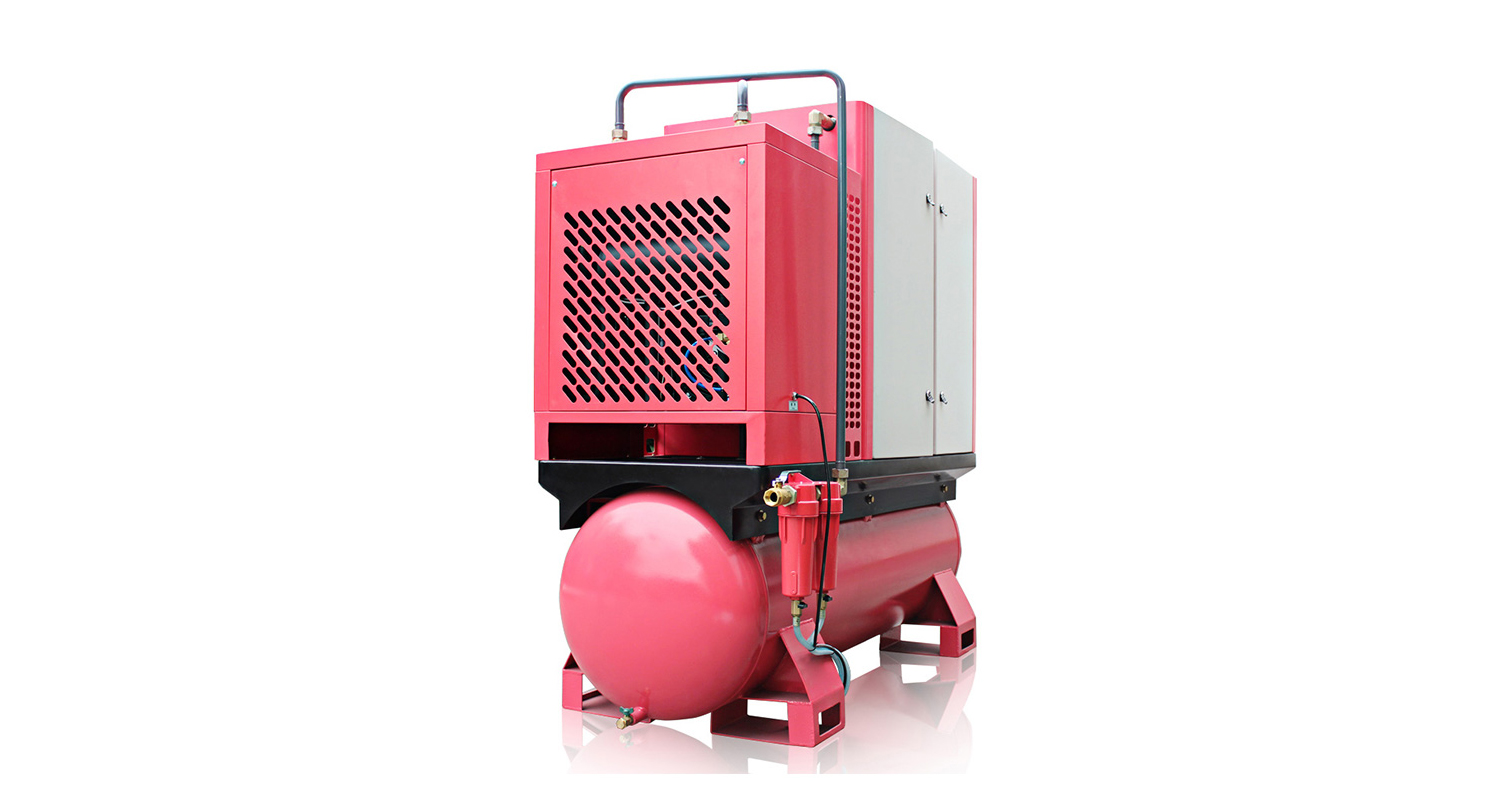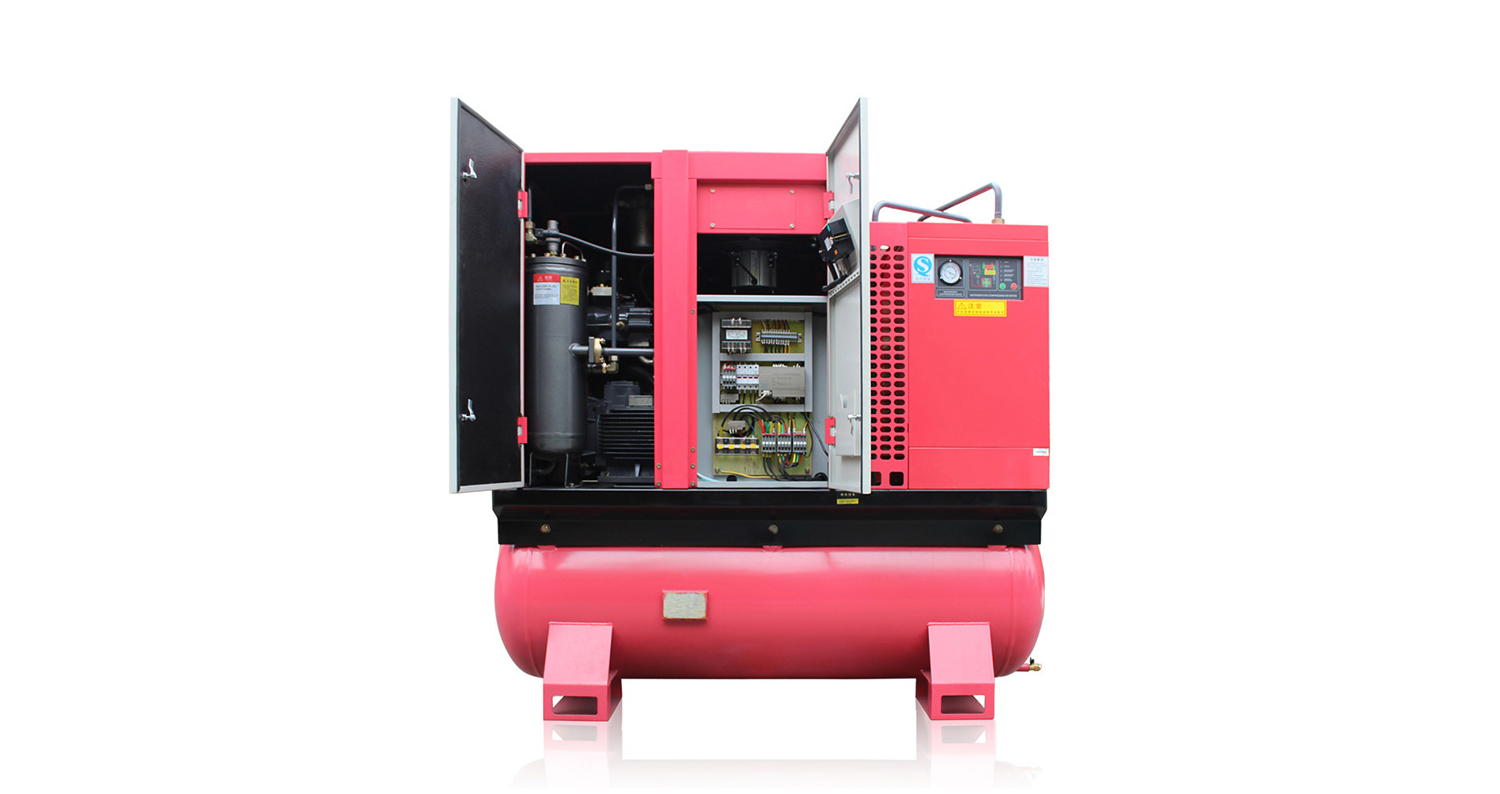 The combined screw air compressor integrates the parts including screw compressor, freeze drier, fine filter and air tank, making it convenient for the user to install, use and move. After the air pass the integrated system, the quality of the air is made largely better to satisfy process requirements of various companies. It is of beautiful appearance, stable performance and economy. It is one of the important series exported by our company.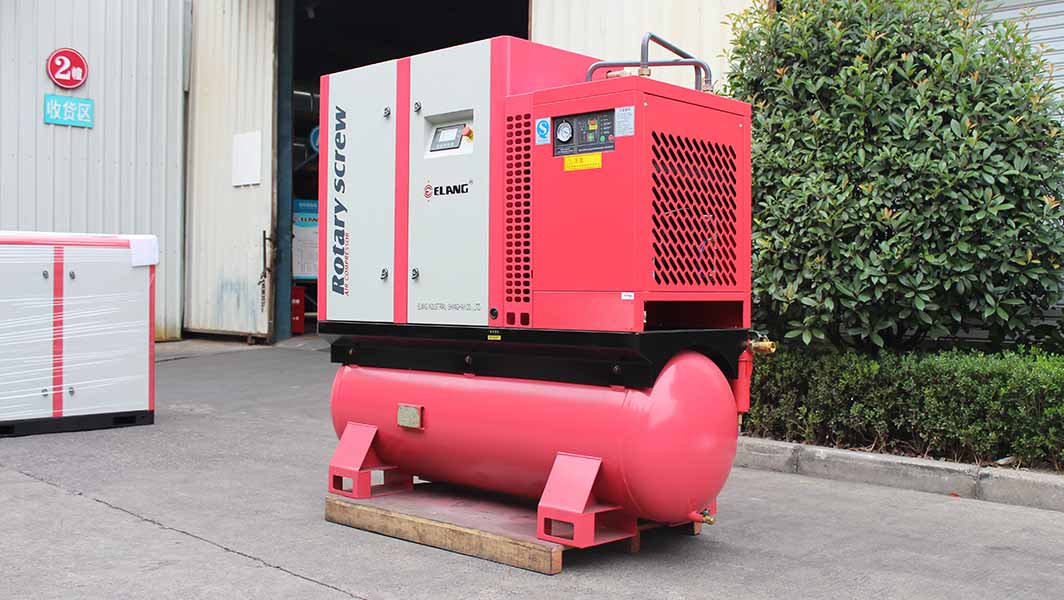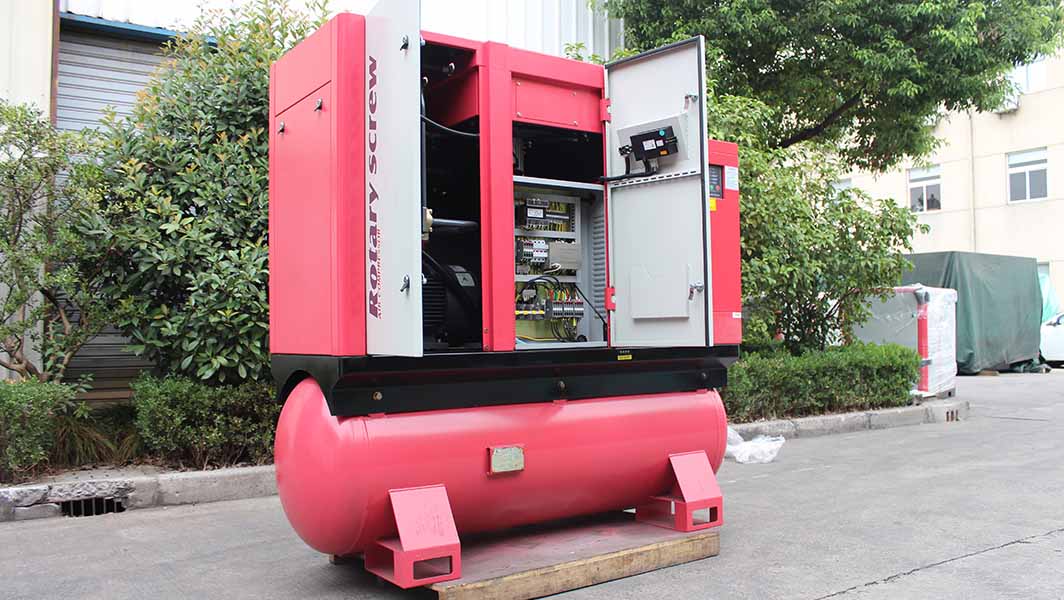 Product Presentation
Advantages
Air End
No vibration and low noise interpret perfectly the genuine made in Germany. Big rotor, low speed of rotation and direct connection.
Motor
First-class motors are adopted, with the level of protection being IP54 and insulation level being F.
Rotor
Rotors are asymmetric in profile, backed up by ball bearings and roller bearings. Operates at a low speed, thereby low in abrasion and maintenance expenses, air end is long service life. Helical gears can produce axial force to kill some acting force, which reduces the load of the bearing of air end.
Control panel
Intelligent microcomputer-based control technology can monitor and control in all aspects the complete machine following your instructions, remote control realizes unattended operation, and the user-friendly human-machine interface displays instructions and parameters in written form also, it can function to self diagnose faults, give warning and automatically regulate the capacity.
Application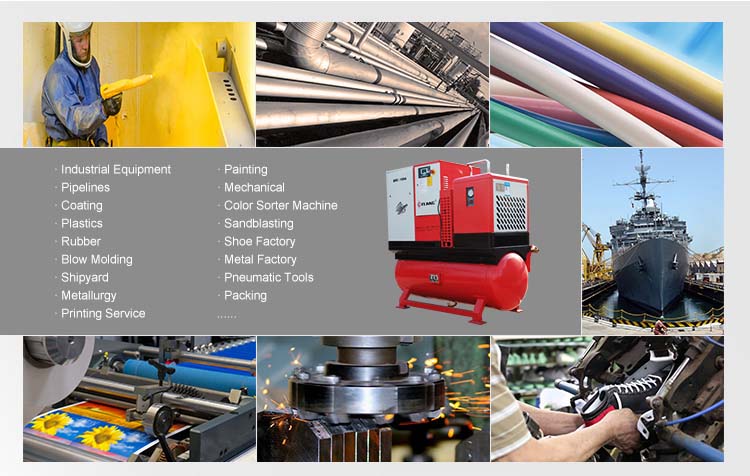 Model
Compressor
Tank
Air Dryer
Filter
Dimension(mm)
Weight
Working Pressure
Air Delivery
Motor Power
Output Plpe Dlameter
Volume of Recelver
Modle of Dryer
Treatment Capaclty
Modle of Preclslon Filter
psi
bar
cfm
m3/min
kw/hp
m3
m3/min
L
W
H
Kg
ERC-10SA
100
7
38.8
1.1
7.5/10
3/4″
0.3
ELH-10A
1.2
END012
1600
848
1660
680
116
8
35.3
1.0
145
10
30.0
0.85
181
12.5
24.7
0.7
218
15
21.4
0.6
232
16
17.9
0.5
ERC-15SA
100
7
63.6
1.8
11/15
1″
0.5(3ln1)
0.3(2ln1)
ELH-15A
/
2.4
/
END024
1955
800
1800
785
116
8
58.3
1.65
145
10
53.0
1.5
181
12.5
45.9
1.3
218
15
35.4
0.92
232
16
31.4
0.88
ERC-20SA
100
7
45.9
2.4
15/20
1″
0.5(3ln1)
0.3(2ln1)
ELH-20A
/
2.6
/
END024
1955
800
1800
810
116
8
84.7
2.2
145
10
77.7
2.1
181
12.5
74.2
1.8
218
15
63.6
1.43
232
16
51.1
1.3
ERC-25SA
ERC-25SW
100
7
46.4
3.1
18.5/25
1″
0.5
ELH-30A
/
3.8
END035
1900
1070
2012
910
116
8
109.5
2.9
145
10
102.4
2.7
181
12.5
95.4
2.3
218
15
64.3
1.8
232
16
71.4
2.0
ERC-30SA
ERC-30SW
100
7
134.2
3.8
22/30
1″ 1/2″
0.5
ELH-30A
/
3.8
END035
1960
1070
2012
930
116
8
127.1
3.6
145
10
113
3.2
181
12.5
88.3
2.5
218
15
78.6
2.2
232
16
71.4
2.0

Motor Efficiency Class:Ultraefficient/IE3/IE2 as per your required
Motor Protection Class:IP23/IP54/IP55 or as per your required
Certification:CE/ISO9001/TUV/UL/SGS/ASME
Voltage:380V/3PH/50HZ/60HZ,   220V/3PH/50HZ/60HZ,   400V/3PH/50HZ/60HZ,   440V/3PH/50HZ/60HZ,   415V/3PH/50HZ/60HZ,   230V/3PH/50HZ/60HZ,  dual voltage is also ok
Elang Compressor Category