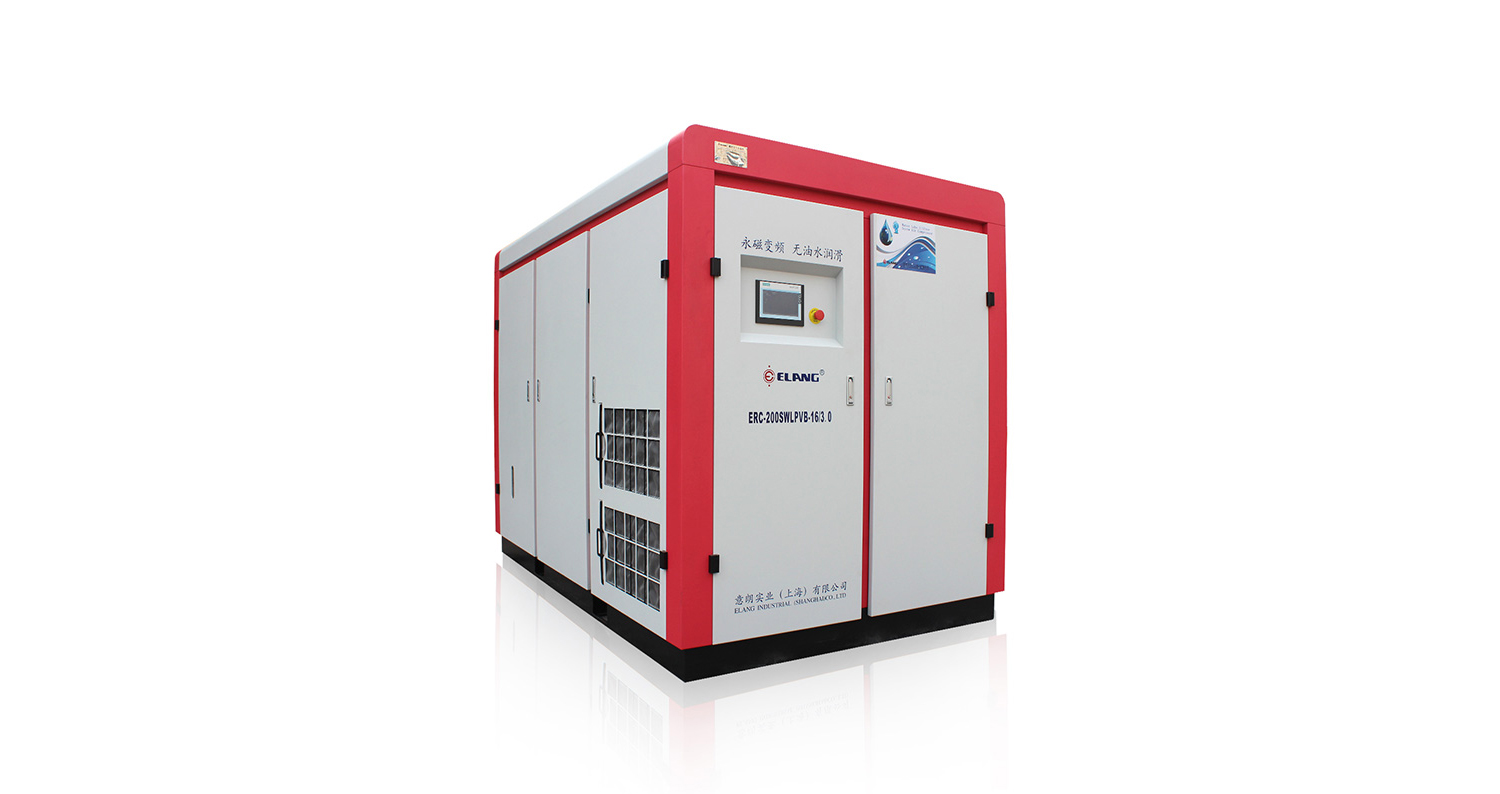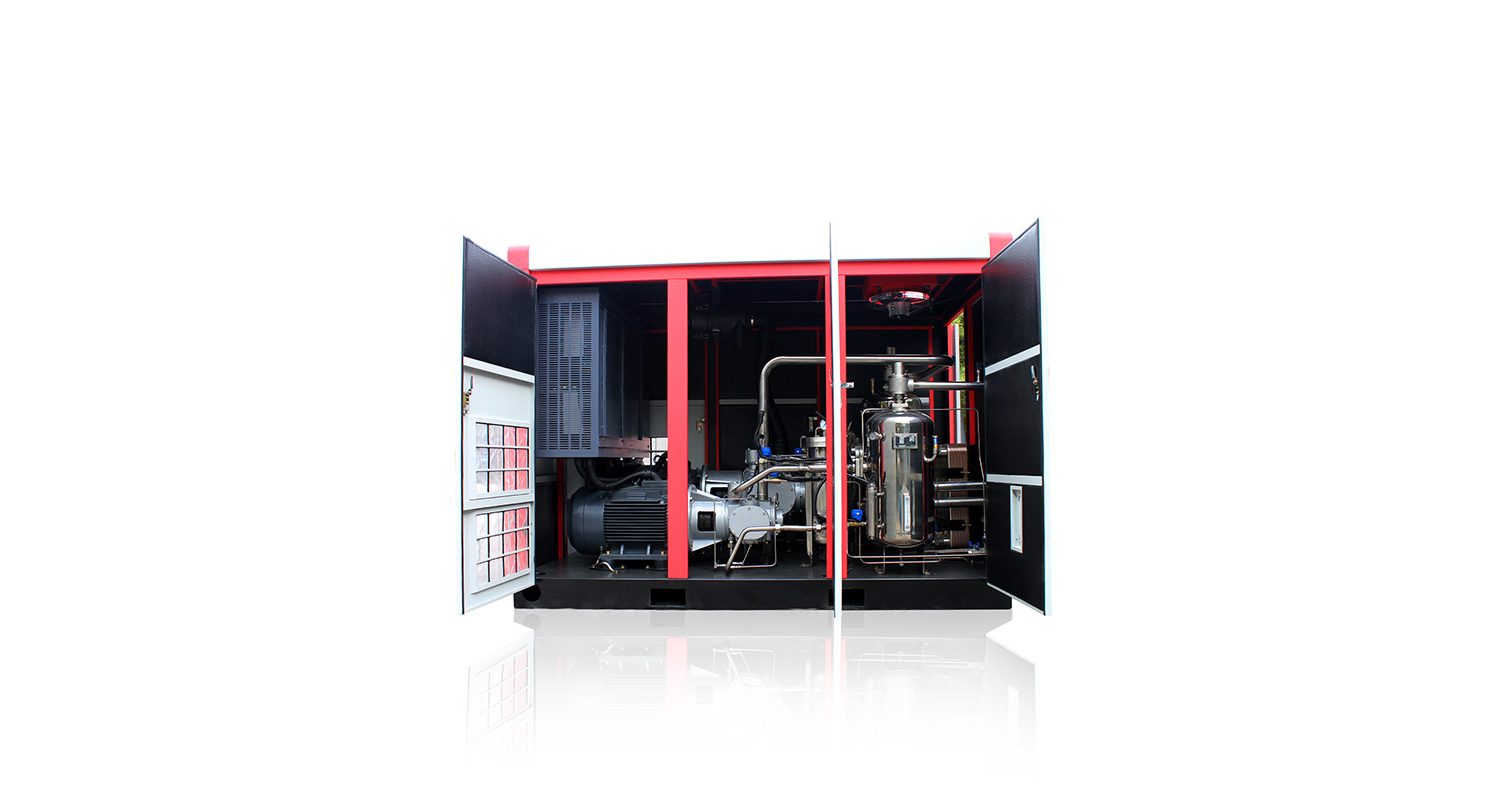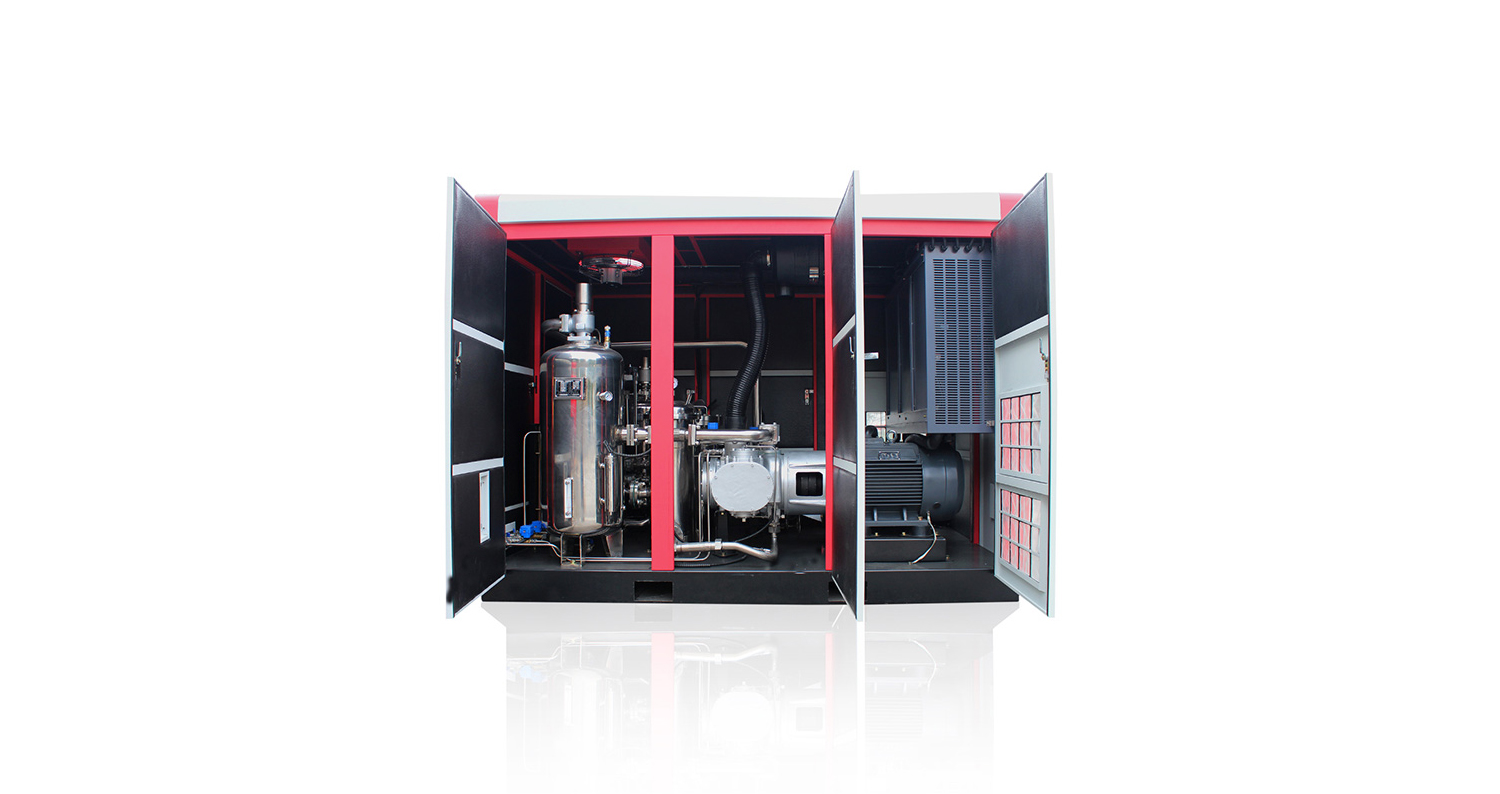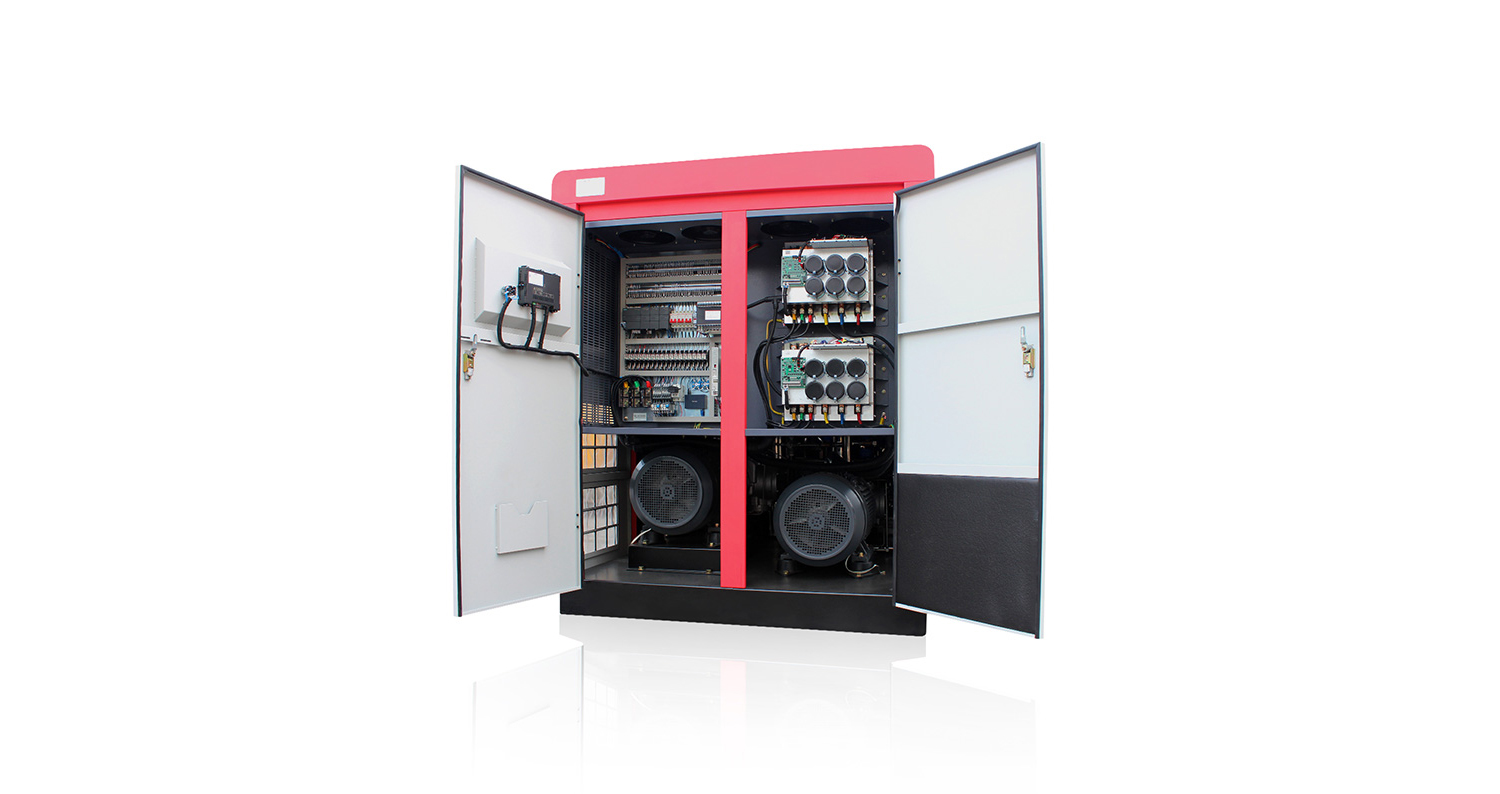 Advantages
Air end life:
It has simple structure, compact, small size, low speed, low vibration, low noise, low exhaust temperature, small temperature range of components, longer service life, lower failure rate.
Unique SIC hydrodynamic bearing design:
Anti-oxidation, anti-corrosion, no mechanical wear, lifelong maintenance-free.
Energy-saving and environmental protection: water seal, water lubrication, water cooling, achieve 100% oil-free environmental protection; dual mainframe, dual motor, low specific power, low exhaust temperature, Isothermal isobaric compression, less internal leakage, high thermal efficiency.
Water —- Lubrication, Sealing and Cooling:
Ideal isothermal compressionHigh efficiency (large air delivery)
Low temperature compressionNo need the intercooler and after cooler
Low rotation speedLow noise, low vibration and no need the overdrive gear
Low viscosity of lubrication waterEasy to be separated with the air
All stainless steel pipe:
Simple ,non-corrosive,non-polluting,high reliablity
Single Stage Compression ,High Efficiency ,and Energy Saving ,and Easy Maintenance:
Single stage compression makes the structure easy.
Compression efficiency is higher than the two stage dry air compressor.
Less consumable parts, easy to be disassembled, reduce the maintenance cost and time greatly.
Application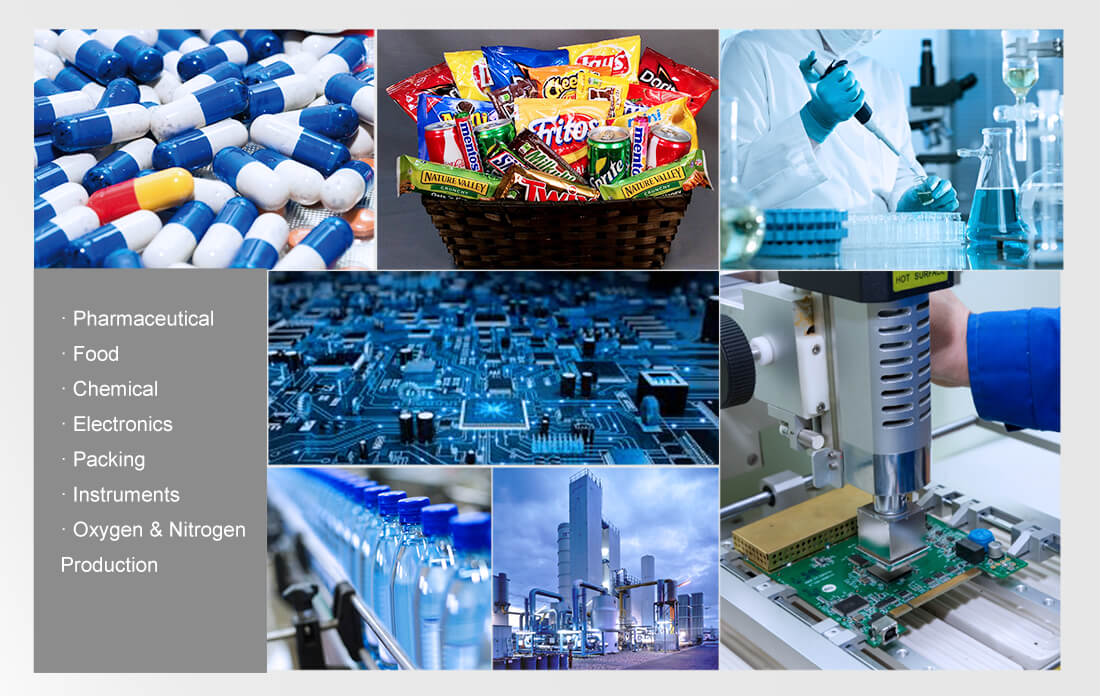 Also be applied in:
Pharmaceutical blow moulding, PET bottle blowing in food and beverage industry, Vessel pressure monitoring, etc.
Model
Working Pressure
Air Delivery
Motor Power
Dimension(mm)
Weight
Output pipe
Diameter
psig
bar
cfm
m3/min
Kw/hp
L
W
H
Kg
ZRCW-20SA
232
16
67.09
1.9
15/20
1450
1000
1560
870
3/4″
ZRCW-25SA
232
16
81.21
2.3
18.5/25
1450
1000
1560
870
3/4″
ZRCW-30SA
232
16
95.74
2.7
22/30
1450
1000
1560
870
3/4″
ZRCW-40SA
232
16
130.65
3.7
30/40
1450
1000
1560
870
3/4″
ZRCW-50SA
232
16
162.43
4.6
37/50
1700
1100
1630
1000
1″
ZRCW-60SA
232
16
197.74
5.6
45/60
2150
1300
1590
1060
1″
ZRCW-75SA
232
16
240.11
6.8
55/75
2500
1450
1750
2750
DN25
290-435
20-30
208.33
5.9
435-580
30-40
165.96
4.7
ZRCW-100SA
232
16
328.38
9.3
75/100
2500
1450
1750
2750
DN25
290-435
20-30
282.48
8
435-580
30-40
229.52
6.5
ZRCW-120SA
232
16
395.42
11.2
90/120
2500
1450
1750
2750
DN32
290-435
20-30
342.51
9.7
435-580
30-40
275.42
7.8
ZRCW-150SA
232
16
480.22
13.6
110/150
2500
1450
1750
2980
DN32
290-435
20-30
420.19
11.9
435-580
30-40
338.98
9.6
ZRCW-175SA
232
16
579.08
16.4
132/175
2500
1450
1750
3100
DN32
290-435
20-30
501.4
14.2
435-580
30-40
409.6
11.6
ZRCW-200SA
232
16
685.01
19.4
160/200
2500
1450
1750
3500
DN40
290-435
20-30
593.21
16.8
435-580
30-40
483.75
13.7
ZRCW-250SA
232
16
794.48
22.5
185/250
3400
1800
1950
3500
DN40
290-435
20-30
692.08
19.6
435-580
30-40
554.37
15.7
ZRCW-270SA
232
16
854.5
24.2
200/270
3400
1800
1950
3500
DN40
290-435
20-30
748.57
21.2
435-580
30-40
600.27
17
ZRCW-300SA
232
16
939.25
26.6
220/300
3850
1900
1950
3950
DN50
290-435
20-30
819.19
23.2
435-580
30-40
663.83
18.8
ZRCW-330SA
232
16
1073.42
30.4
250/330
3850
1900
1950
3950
DN50
290-435
20-30
928.65
26.3
435-580
30-40
759.17
21.5
ZRCW-375SA
232
16
1197.01
33.9
280/375
3850
1900
1950
3950
DN50
290-435
20-30
1038.11
29.4
435-580
30-40
843.91
23.9
ZRCW-420SA
232
16
1348.84
38.2
315/420
4500
2000
2100
4800
DN65
290-435
20-30
1175.82
33.3
435-580
30-40
946.31
26.8
ZRCW-470SA
232
16
1521.86
43.1
355/470
4500
2000
2100
5200
DN65
290-435
20-30
1320.59
37.4
435-580
30-40
1073.42
30.4

Motor Efficiency Class:Ultraefficient/IE3/IE2 as per your required
Motor Protection Class:IP23/IP54/IP55 or as per your required
Certification:CE/ISO9001/TUV/UL/SGS/ASME
Voltage:380V/3PH/50HZ/60HZ, 220V/3PH/50HZ/60HZ, 400V/3PH/50HZ/60HZ, 440V/3PH/50HZ/60HZ, 415V/3PH/50HZ/60HZ,
230V/3PH/50HZ/60HZ, dual voltage is also ok
Elang Compressor Category