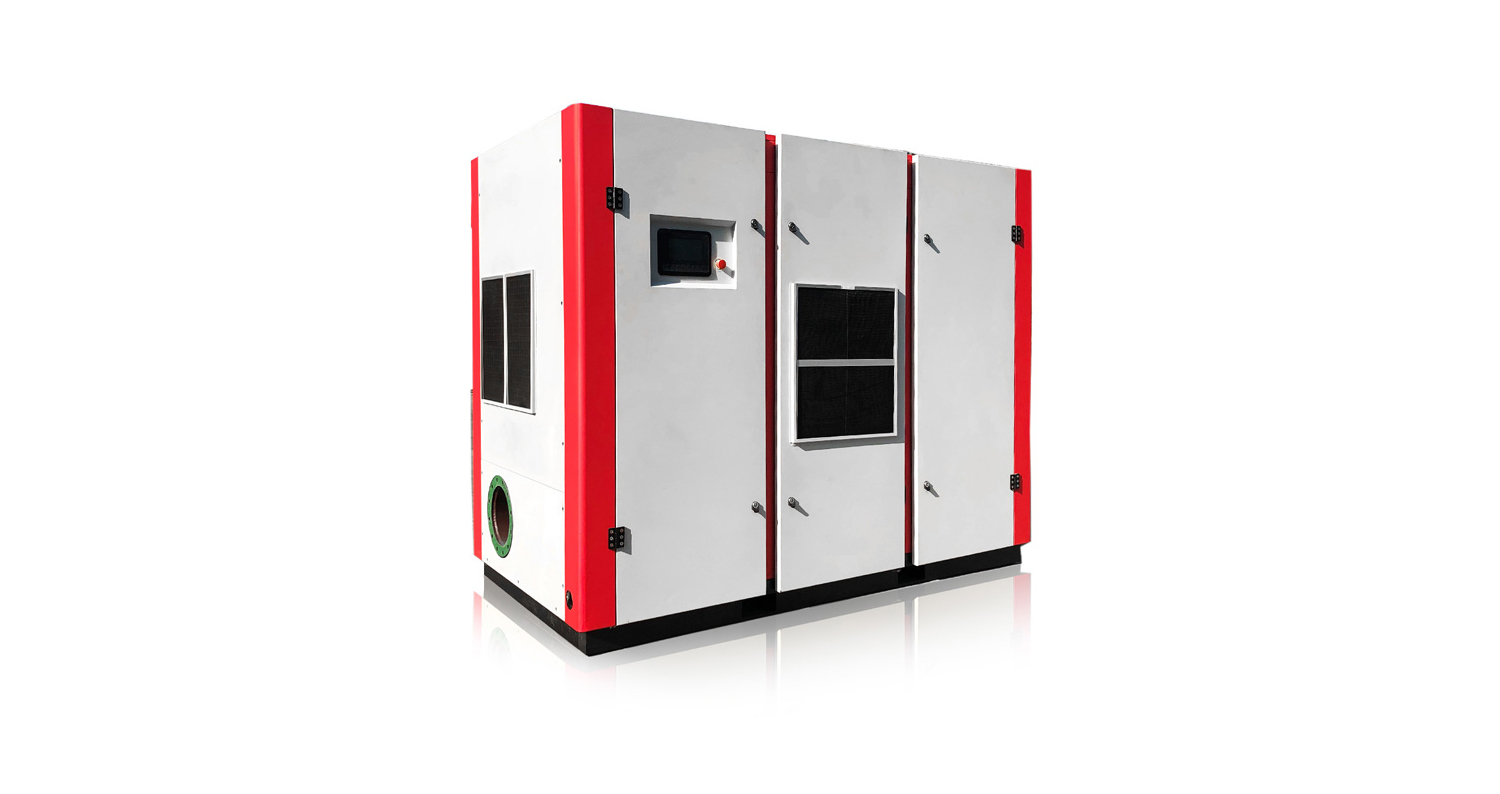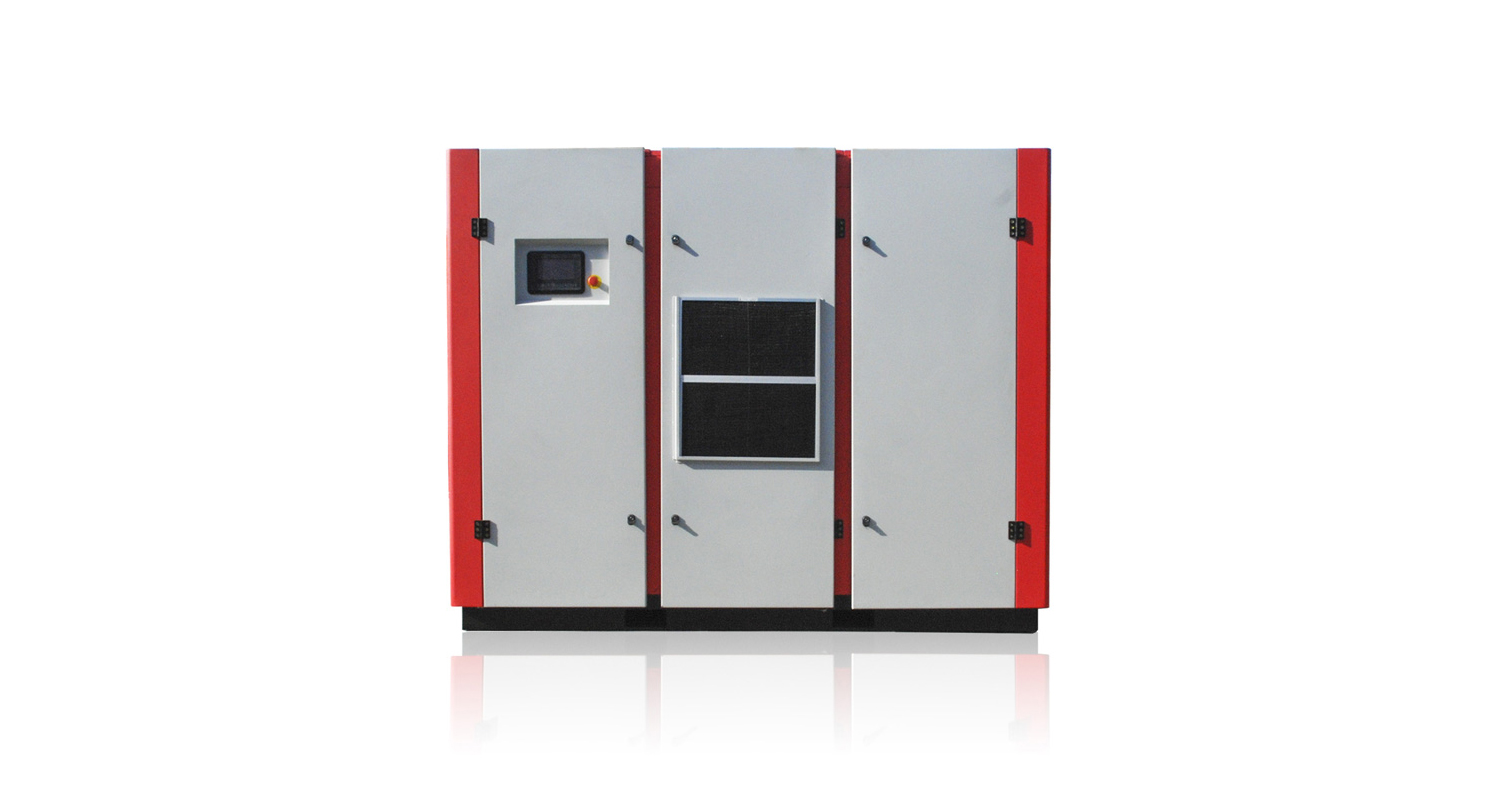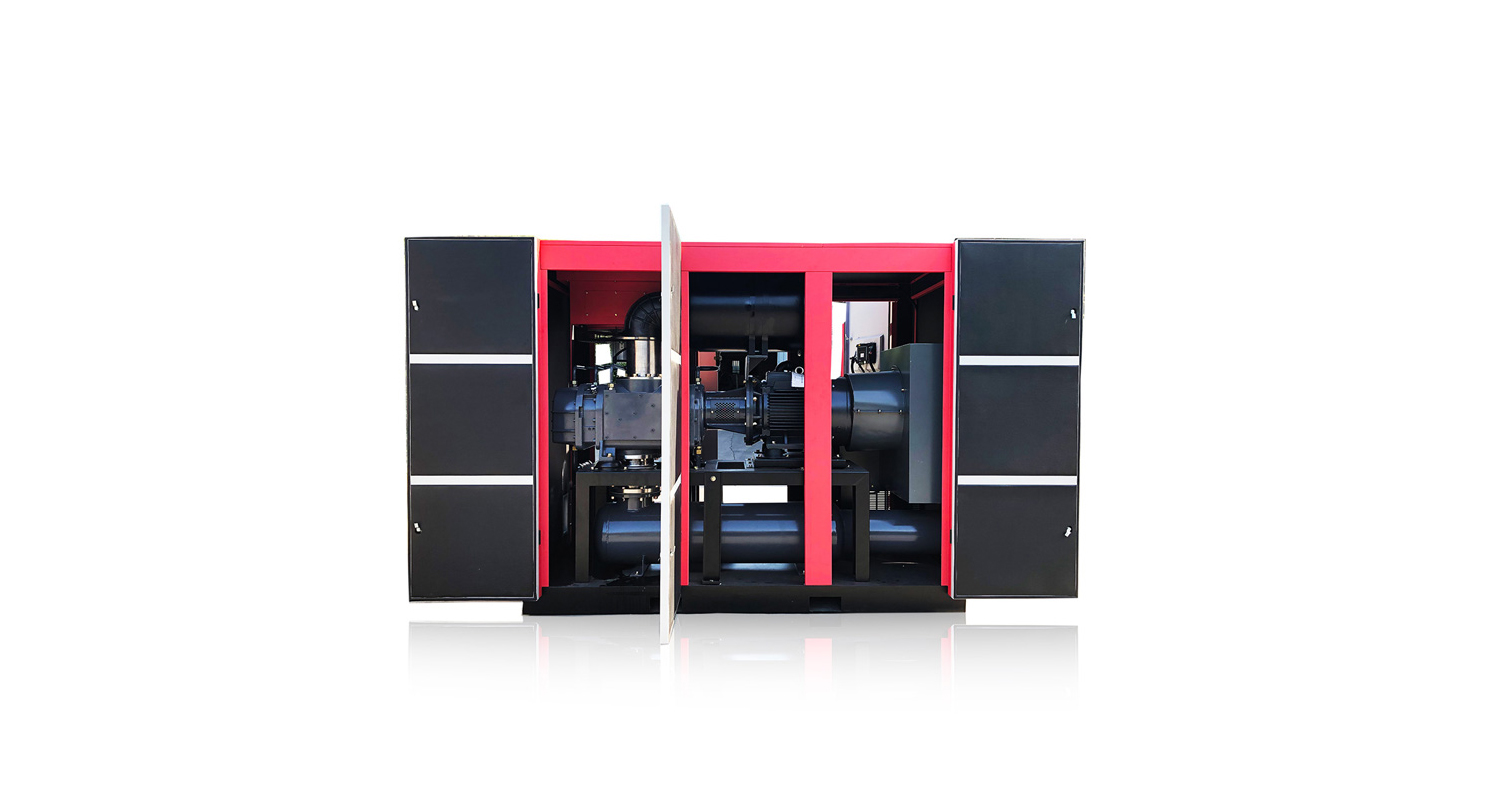 The double screw oil free blower uses a pair of meshing screw rotors to suck in air from the intake end, compressand discharge it to the discharge end during rotation. There is no lubricating oil in the compression chamber, the female and male rotors are driven by synchronous gears to run synchronously. The air delivery is from 3~200m3/min.
Compared with the roots blower, the air delivery fluctuation is smaller. Due to the volumetric compression, the efficiency of screw blower is much higher than that of the roots blower, and the noise of screw blower is much lower.
Advantages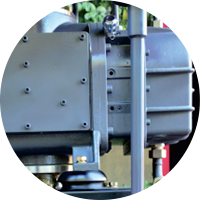 Screw Air End:
■ Bearings adapt to changing loads and provide a high degree of flexibility and efficiency
■ Ensure the smooth operation of the production process
Air Filter
■ High quality and high filtering grade, high process reliability and high efficiency.
■ Long service life and extended maintenance interval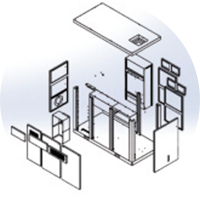 Sound-proof Cover:
■ Noise is greatly reduced by sound insulation sponge and metal door.
■ Reduce the cost of sound insulation equipment in blower installtion room
■ Easy to provide service to blower by opening the door.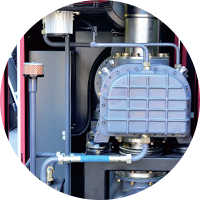 Oil Circuit System:
■ Advanced oil circuit system design integrates oil pump, oil cooler and filter
■ Low oil temperature and long service life of bearings and gears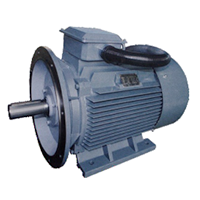 High Efficiency PM Motor:
■ Low speed and high torque
■ Higher motor energy efficiency equal to IE4
■ Independent fan for heat dissipation to ensure the stability of the motor.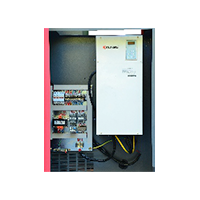 High Efficiency Frequency Inverter:
■ Equipped with frequency inverter for energy saving efficiency, no need extra installation, easy operation.
■ Stable running and energy saving.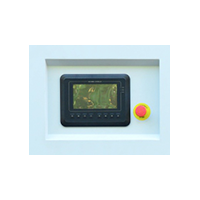 PLC Control:
■ Integrated blower control system
■ Display the overall system performance status, actively prompt maintenance and service information, fault and safe shutdown alarm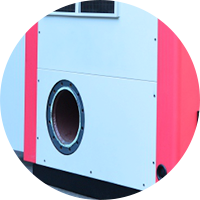 Air Inlet and Discharge Silencer:
■ Air inlet and discharge ports are installed in fixed positions to facilitate pipe connection
■ All grilles are lined to reduce noise
■ Independent cooling air flow to avoid recirculation
Applications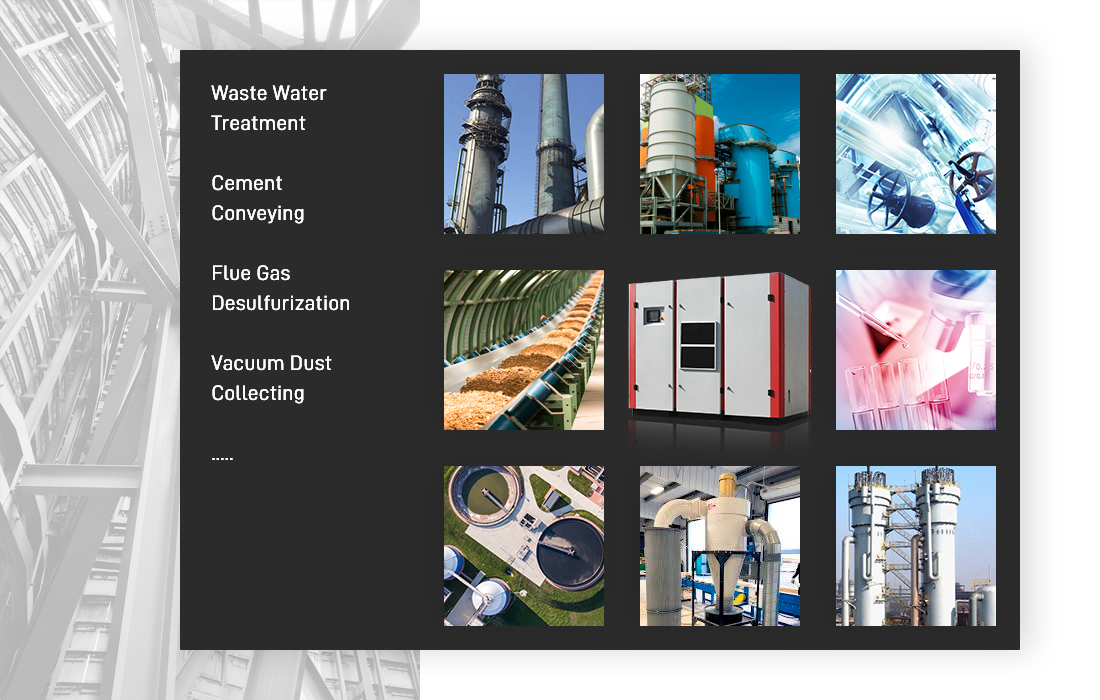 Project
3 Units of 37kw 0.7bar Oil Free Air Blowers for Wastewater Treatment Industry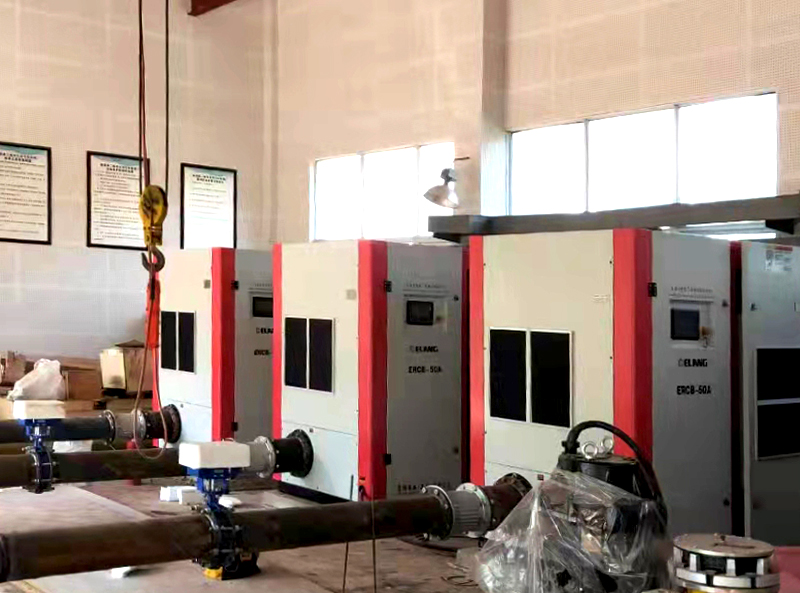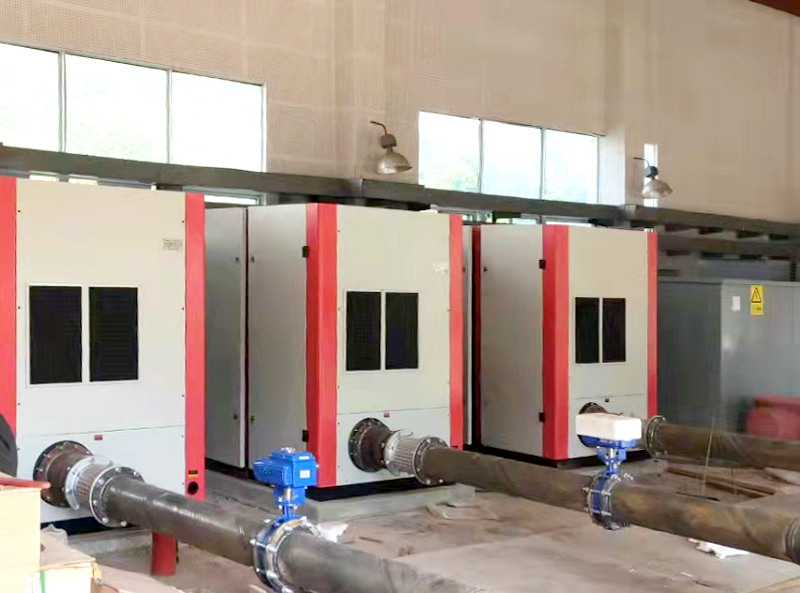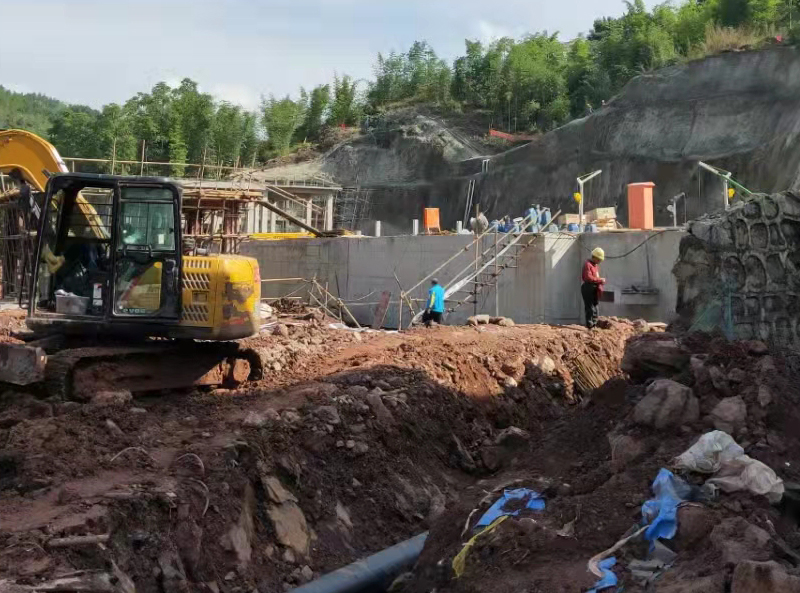 Model
Motor Power
Air Delivery
Working Pressure
Dimension(mm)
Outlet Diameter
Weight
Speed
Kw
m3/min
Kpa
L
W
H
DN
Kg
rad
ERCB-10SAH-0.4
7.5
5.8
40
2150
1300
1700
80
1250
4100
ERCB-10SAH-0.5
5.0
50
80
3600
ERCB-15SAH-0.4
11
8.7
40
2150
1300
1700
80
1250
6000
ERCB-15SAH-0.5
8.0
50
80
5700
ERCB-15SAH-0.6
6.7
60
80
4800
ERCB-15SAH-0.7
6.1
70
80
4500
ERCB-15SAH-0.8
5.5
80
80
4000
ERCB-15SAH-0.9
4.9
90
80
3500
ERCB-15SAH-1.0
4.4
100
80
3100
ERCB-20SAH-0.6
15
10.1
60
2150
1300
1700
100
1250
6000
ERCB-20SAH-0.7
9.3
70
100
6000
ERCB-20SAH-0.8
8.0
80
100
5800
ERCB-20SAH-0.9
7.3
90
80
5100
ERCB-20SAH-1.0
6.7
100
80
4800
ERCB-20SAH-1.1
6.1
110
80
4400
ERCB-20SAH-1.2
5.5
120
80
4000
ERCB-20SAH-1.3
5.0
130
80
3600
ERCB-20SAH-1.4
4.5
140
80
3200
ERCB-20SAH-1.5
4.0
150
80
2900
ERCB-25SAH-0.8
18.5
9.7
80
2150
1300
1700
80
1250
6000
ERCB-25SAH-0.9
9.0
90
80
5700
ERCB-25SAH-1.0
8.2
100
80
5700
ERCB-25SAH-1.1
7.6
110
80
4800
ERCB-25SAH-1.2
7.0
120
80
4500
ERCB-25SAH-1.3
6.4
130
80
4000
ERCB-25SAH-1.4
5.8
140
80
3500
ERCB-25SAH-1.5
5.3
150
80
3100
ERCB-30SAH-1.0
22
9.4
100
2150
1300
1700
100
1250
6000
ERCB-30SAH-1.1
9.2
110
100
6000
ERCB-30SAH-1.2
8.5
120
100
5800
ERCB-15SAH-1.3
7.8
130
100
5700
ERCB-30SAH-1.4
7.2
140
80
5200
ERC-30SAH-1.5
6.6
150
80
4800
ERCB-25SAH-0.4
18.5
16.0
40
2200
1380
1900
150
2300
2800
ERCB-25SAH-0.5
13.3
50
150
2300
ERCB-30SAH-0.4
22
20.0
40
2200
1380
1900
150
2300
3500
ERCB-30SAH-0.5
17.3
50
150
3000
ERCB-30SAH-0.6
15.8
60
150
2800
ERCB-30SAH-0.7
13.2
70
150
2500
ERCB-40SAH-0.4
30
29.0
40
2200
1380
1900
200
2300
5000
ERCB-40SAH-0.5
25.8
50
200
4500
ERCB-40SAH-0.6
22.7
60
200
4000
ERCB-40SAH-0.7
19.8
70
150
3500
ERCB-40SAH-0.8
18.3
80
150
3200
ERCB-40SAH-0.9
15.6
90
150
2600
ERCB-50SAH-0.6
37
30.3
60
2200
1380
1900
250
2300
5000
ERCB-50SAH-0.7
25.5
70
150
4400
ERCB-50SAH-0.8
22.5
80
150
3800
ERCB-50SAH-0.9
21.0
90
150
3600
ERCB-50SAH-1.0
18.2
100
150
3100
ERCB-50SAH-1.1
16.8
110
150
2900
ERCB-50SAH-1.2
15.5
120
150
2800
ERCB-60SAH-0.8
45
30.1
80
2200
1380
1900
200
2300
5000
ERCB-60SAH-0.9
26.8
90
200
4600
ERCB-60SAH-1.0
23.8
100
200
4100
ERCB-60SAH-1.1
20.8
110
150
3600
ERCB-60SAH-1.2
19.4
120
150
3300
ERCB-60SAH-1.3
16.7
130
150
2900
ERCB-60SAH-1.4
15.3
140
150
2800
ERCB-75SAH-1.0
55
29.9
100
2200
1380
1900
200
2300
5000
ERCB-75SAH-1.1
26.6
110
200
4500
ERCB-75SAH-1.2
26.0
120
150
4500
ERCB-75SAH-1.3
22.1
130
150
3800
ERCB-75SAH-1.4
19.2
140
150
3300
ERCB-75SAH-1.5
17.9
150
150
3100
ERCB-100SAH-1.3
75
31.1
130
2200
1380
1900
200
2300
5000
ERCB-100SAH-1.4
29.4
140
200
5000
ERCB-100SAH-1.5
27.8
150
200
4800
ERCB-40SAH-0.4
30
24.5
40
2580
1400
2100
200
3150
3600
ERCB-50SAH-0.4
37
32.3
40
2580
1400
2100
200
3150
3600
ERCB-50SAH-0.5
29.5
50
200
3200
ERCB-50SAH-0.6
26.5
60
200
3000
ERCB-50SAH-0.7
24.2
70
200
2700
ERCB-60SAH-0.4
45
42.8
40
2580
1400
2100
200
3150
3600
ERCB-60SAH-0.5
37.7
50
200
3600
ERCB-60SAH-0.6
34.7
60
200
3200
ERCB-60SAH-0.7
31.9
70
200
3000
ERCB-60SAH-0.8
29.1
80
150
2800
ERCB-60SAH-0.9
26.4
90
150
2500
ERCB-75SAH-0.4
55
53.0
40
2580
1400
2100
200
3150
3600
ERCB-75SAH-0.5
47.7
50
200
3400
ERCB-75SAH-0.6
42.4
60
150
3200
ERCB-75SAH-0.7
39.8
70
150
3000
ERCB-75SAH-0.8
37.2
80
150
2800
ERCB-75SAH-0.9
34.3
90
150
2600
ERCB-75SAH-1.0
28.9
100
150
2600
ERCB-100SAH-0.7
75
54.8
70
2580
1400
2100
200
3150
2800
ERCB-100SAH-0.8
52
80
150
2600
ERCB-100SAH-0.9
46.8
90
150
2400
ERCB-100SAH-1.0
44.1
100
150
2300
ERCB-100SAH-1.1
41.5
110
150
2100
ERCB-100SAH-1.2
38.9
120
150
2000
ERCB-100SAH-1.3
33.7
130
150
1800
ERCB-100SAH-1.4
30.9
140
150
1600
ERCB-100SAH-1.5
28.2
150
150
1400
ERCB-120SAH-0.9
90
56.8
90
2580
1400
2100
200
3150
3600
ERCB-120SAH-1.0
54.1
100
200
3400
ERCB-120SAH-1.1
48.9
110
150
3200
ERCB-120SAH-1.2
46.2
120
150
3000
ERCB-120SAH-1.3
43.5
130
150
2800
ERCB-120SAH-1.4
38.5
140
150
2600
ERCB-120SAH-1.5
36
150
150
2400
ERCB-150SAH-1.2
110
56.1
120
2580
1400
2100
200
3150
3600
ERCB-150SAH-1.3
53.3
130
200
3400
ERCB-150SAH-1.4
48.2
140
150
3200
ERCB-150SAH-1.5
45.5
150
150
3000
ERCB-175SAH-1.5
132
55.3
150
2580
1400
2100
150
3150
3600
ERC-100SAH-0.4
75
70.3
40
3500
2000
2500
200
4150
2800
ERC-100SAH-0.5
62.9
50
200
2600
ERC-100SAH-0.6
55.9
60
200
2400
ERC-120SAH-0.4
90
87.4
40
3500
2000
2500
300
4150
3600
ERC-120SAH-0.5
80.5
50
300
3200
ERC-120SAH-0.6
69.8
60
300
3000
ERC-120SAH-0.7
62.6
70
300
2800
ERC-120SAH-0.8
55.6
80
300
2600
ERC-150SAH-0.4
110
100.7
40
3500
2000
2500
350
4150
4400
ERC-150SAH-0.5
96.9
50
350
4000
ERC-150SAH-0.6
86.8
60
300
3600
ERC-150SAH-0.7
80.2
70
300
3400
ERC-150SAH-0.8
69.5
80
300
3200
ERC-150SAH-0.9
62.3
90
300
3000
ERC-150SAH-1.0
58.6
100
300
2600
ERC-175SAH-0.6
132
100.0
60
3500
2000
2500
350
4150
4600
ERC-175SAH-0.7
96.5
70
350
4400
ERC-175SAH-0.8
86.5
80
350
4000
ERC-175SAH-0.9
79.9
90
300
3800
ERC-175SAH-1.0
72.7
100
300
3600
ERC-175SAH-1.1
65.4
110
300
3400
ERC-175SAH-1.2
58.2
120
300
3000
ERC-175SAH-1.3
54.7
130
200
2800
ERC-175SAH-1.4
54.4
140
200
2600
ERC-200SAH-0.9
160
99.4
90
3500
2000
2500
350
4150
4800
ERC-200SAH-1.0
89.1
100
350
4600
ERC-200SAH-1.1
82.5
110
350
4200
ERC-200SAH-1.2
79
120
350
4000
ERC-200SAH-1.3
71.9
130
350
3800
ERC-200SAH-1.4
68
140
300
3400
ERC-200SAH-1.5
60.8
150
300
3200
ERC-250SAH-1.0
185
98.9
100
3500
2000
2500
350
4150
4800
ERC-250SAH-1.1
98.7
110
350
4600
ERC-250SAH-1.2
91.8
120
350
4200
ERC-250SAH-1.3
85.0
130
350
4000
ERC-250SAH-1.4
78.3
140
350
3800
ERC-250SAH-1.5
74.8
150
350
3600
ERC-270SAH-1.1
200
98.7
110
3500
2000
2500
350
4150
4800
ERC-270SAH-1.2
98.3
120
350
4600
ERC-270SAH-1.3
94.6
130
350
4200
ERC-270SAH-1.4
87.8
140
350
4000
ERC-270SAH-1.5
84.2
150
350
3800
ERC-300SAH-1.3
220
97.9
130
3500
2000
2500
350
4150
4800
ERC-300SAH-1.4
94.2
140
350
4600
ERC-300SAH-1.5
90.6
150
350
4200
ERC-330SAH-1.5
250
97.5
150
3500
2000
2500
350
4150
4800
Elang Compressor Category